Retailers delivered a poor report card for the height of the back-to-school selling season, posting August sales that missed views as shoppers remained cautious amid changing spending patterns.
August sales at stores open at least a year slipped 1% vs. a year earlier, said Ken Perkins, president of Retail Metrics, in a Thursday report. Analysts expected a 0.6% decline.
Costco Wholesale (NASDAQ:COST),Rite Aid (NYSE:RAD), and Buckle (NYSE:BKE) all missed forecasts.L Brands (NYSE:LB) was a standout, with same-store sales for the month that topped views.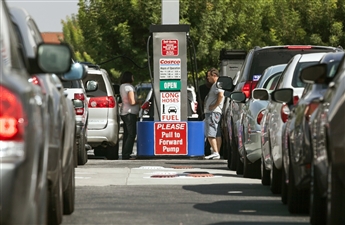 The chilly reception to back-to-school fare follows a scant 0.3% rise in July same-store sales. The back-to-school selling season started in late July and runs through mid-September.
What does the weak August showing say about the consumer mindset?
"What the results suggest is ... the vast majority of American consumers remained cautious in terms of their discretionary spending," Perkins told IBD. "They're willing to purchase new vehicles and spend on smartphones, entertainment, data and subscription plans. But after that they're clearly looking for brand names at discounted prices."
The quest for less-expensive brand names has resulted in off-price retail operators such as Ross Stores (NASDAQ:ROST), TJX (NYSE:TJX) and Burlington Stores (NYSE:BURL) doing well, he adds, and companies such as Macy's (NYSE:M) trying to "emulate that format," he added.
Macy's on Wednesday debuted its new off-price retail brand, Macy's Backstage, with three New York City metro-area stores. Three more are slated to open in 2015 for a total of six stores.
The Rise Of Discretion
Michael Niemira, chief economist at the Retail Economist research firm, agrees there's been a...
More