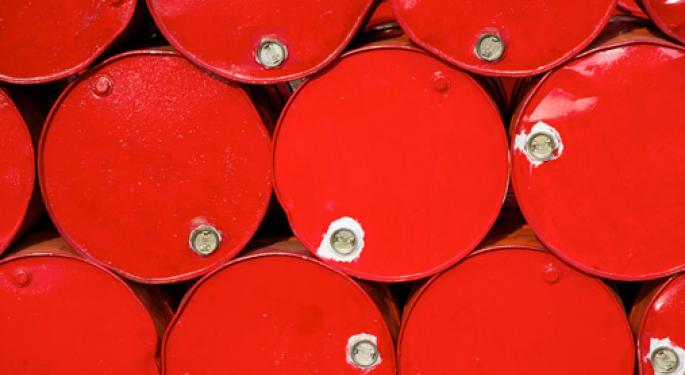 Oil stocks are more under the spotlight than they have been in months given oil prices trading below $40 a barrel and an overall underwhelming earnings performance.
Paul Cheng of Barclays was active this week updating his view and outlook for many names in the oil sector.
Chevron Offers A 'Relief'
According to Cheng, Chevron Corporation CVX 0.84% could see its stock price find support as investors will rotate out of underperforming names, such as Exxon Mobil Corporation XOM 0.05% and Royal Dutch Shell plc (ADR) (NYSE: RDS-A) into Chevron.
However, Chevron will still operate with ongoing industry-wide headwinds, such as low oil prices that puts into question its cash flow. The company needs Brent to trade in the $60 to $65 per barrel range to be cash flow neutral
It won't be until 2017 that Chevron will be cash flow positive as the analyst is expecting an average positive annual free cash flow of $7.5 billion from 2017 to 2020.
Murphy Oil: Expect A Modest Relief Rally
Commenting on Murphy Oil Corporation MUR 2.95% and its stock, Cheng believes its Q2 print will yield a neutral to slightly positive impact on the stock's near-term performance.
The analyst cited a "lack of any material incrementally disappointing news" in its earnings report to justify the belief that shares could stage a "modest relief rally."
Phillips 66: Share Buyback Program A Question Mark
Phillips 66 PSX 2.68% reported a disappointing second quarter print, which prompted Cheng to question the company's ability to oversee a stock buyback program.
According to Cheng, the company's weaker-than-expected results reported in its refining and natural gas liquids businesses along with a reduction in capital expenditures through 2017 could result in Phillips 66 not being able to sustain its current pace of share buybacks in 2017.
Tesoro: What To Expect
Tesoro Corporation TSO 3.56% is scheduled to report its second quarter results after Wednesday's market close. The company is expected to earn $1.85 per share on revenue of $5.61 billion.
Cheng is estimating Tesoro will earn $1.71 per share in its second quarter, which falls short of what his analyst peers are expecting. His second quarter earnings estimate assumes zero inventory/trading gain or losses and no LCM adjustments.
Cheng is also estimating Tesoro's refining margin to average $11.60 per barrel, up from the prior quarter's $9.7 a barrel but also marking a drop from $19.1 a barrel it reported in the same quarter a year ago.
Operating costs are estimated at $4.80 per barrel, down 13 percent sequentially and year-over-year.
Date
Firm
Action
From
To
Jul 2016
Jefferies
Maintains
Buy
Apr 2016
Barclays
Maintains
Equalweight
Mar 2016
Raymond James
Downgrades
Outperform
Market Perform
© 2016 Benzinga.com. Benzinga does not provide investment advice. All rights reserved.