Now that both the ISM manufacturing and services indexes have been released, and at 55.7 and 58.6 respectively, we can see that the month August was a fairly robust month for growth for both.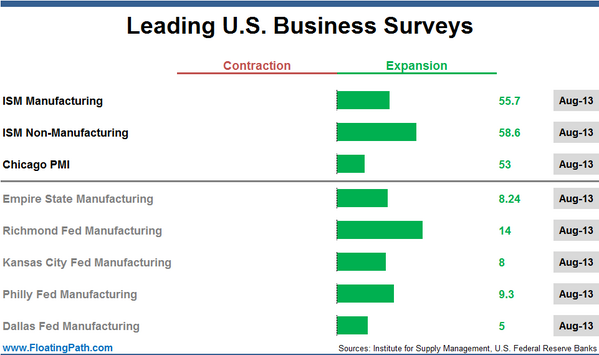 This is in line with the regional Fed manufacturing surveys we had from around the US earlier in the month. 
Employment Sub-Gauges Within ISM Surveys Give Clues to NFP

Important for tomorrow's NFP are the 2 Employment sub-gauges found within the reports.

The ISM Non-Manufacturing (Services) Index had an Employment index of 57.0, up 3.8 points from July, a positive sign for the sector that makes up more than 75% of the economy.
In the ISM Manufacturing Index, the Employment sub-gauge was at 53.3, weaker than in July.

Tomorrow we will see if the strong sentiment among businesses ends up in job growth close to the 200K level that the Fed is looking for.
- Nick