Last week, oil prices continued to plunge. WTI Crude fell from around 90.00 and broke below the 2013-low at 85.93, opening up lows not seen since 2012. It is now pressing and cracking the Sept. 2012 lows around 84.00. 
WTI Crude Oil Weekly Chart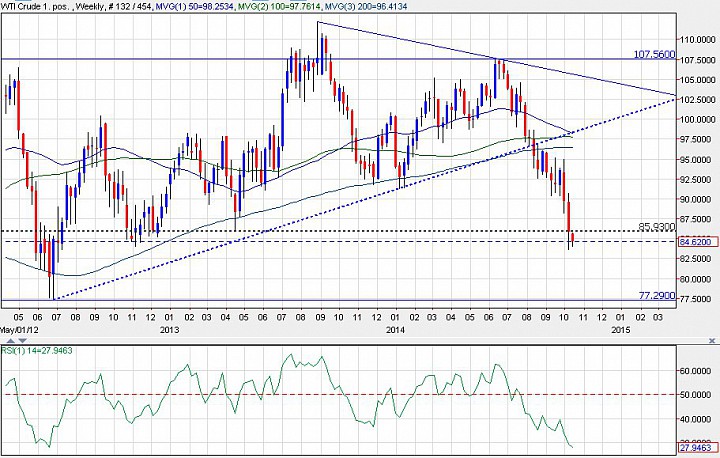 (click to enlarge)
The weekly chart shows a bearish market entering oversold condition as the RSI dips below 30. However, we should note that since falling from the 107.56, July and 2014-high, gold price has not had more than a week of bullish correction. So a couple weeks of price action might be needed to open up a meaningful consolidation/correction.
The daily chart is also oversold, and it shows that if there is going to be a bullish correction, we have resistance at:
R1: 88.20
R2: 90.41
R3: 92.61
WTI Crude Oil Daily Chart 10/13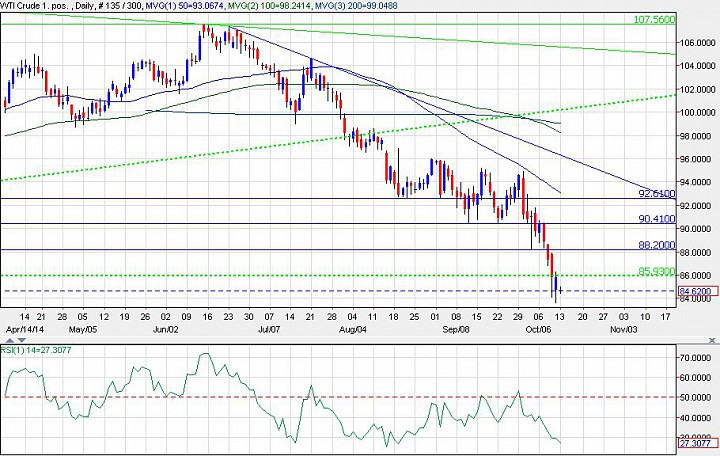 (click to enlarge)
Continuing with the possible consolidation/correction theme, let's take a look at the 4H chart. We can see that price made a low of 83.61 and the a resistance pivot at 86.28. Now, if price can hold above this low, and push above 86.30, we can consider a possible price bottom, especially if price also breaks above the falling trendline from late September from around 95.00. 
WTI Crude Oil 4H Chart 10/13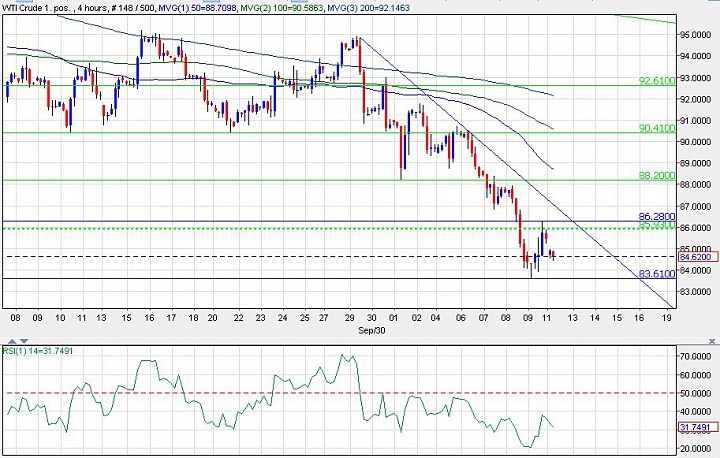 (click to enlarge)
With the prevailing trend sharply bearish, we should not stay bullish on oil for too long. Any bullish outlook is based on oversold conditions, and possible price bottoms, and are vulnerable to sellers once those oversold conditions area resolved. Still, if price action stabilizes this week, we might have some consolidation/correction in the next week or two, with upside limited to 92.60.