As their names suggest, both the First Trust U.S. Equity Opportunities (FPX) and Renaissance IPO (IPO) invest in newly public stocks. So as you might guess, both ETFs own shares of Snap (SNAP), and are feeling the pain from the social media company's disappointing debut earnings report.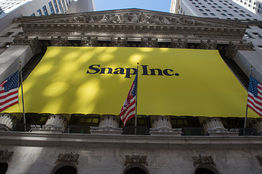 Snap dropped almost 21.5% to close at $18.05 a share.
But why did Renaissance IPO suffer far more than First Trust, falling 1.3% compared to its rival's 0.8% decline?
The simple answer is exposure. Snap is a much bigger holding for IPO -- the fund's fifth largest in fact, with a weighting of almost 4.1% in a fairly concentrated portfolio of fewer than 50 stocks. In First Trust, meanwhile, Snap is a 1.4% weighing, in a portfolio with more than 100 stocks.
Composition differences between ETF baskets can impact how those funds react to big price swings by one of its holdings, and matters most at the sector or niche level.
My colleague Crystal Kim...
More