Platinum - Head over Shoulders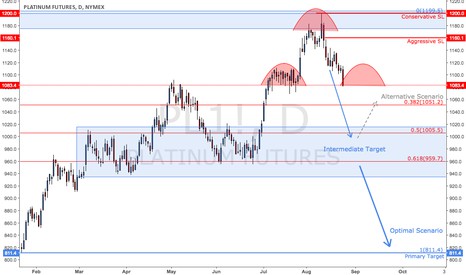 Dear Community,

today we have a quite interesting setup concerning Platinum0.00%% . It is actually more a possible- than an expected setup but still worth mentioning.

As you can see in the chart we are expecting the formation of a SHOULDER - HEAD - SHOULDER formation, highlighted in red semi-circles. If this scenario kicks in, we could easily dip deep into the intermediate target zone at around $960. However, there is a very good chance that, if all clicks into place, it will fall through the intermediate zone, following our optimal scenario and therefore primary target ay $811.

If you follow us on our premium analysis you will know that we have opened a short position a few days back, aiming for the intermediate and hopefully the primary target. It looks good so far but we need to keep an eye on it for sure.

Good luck.