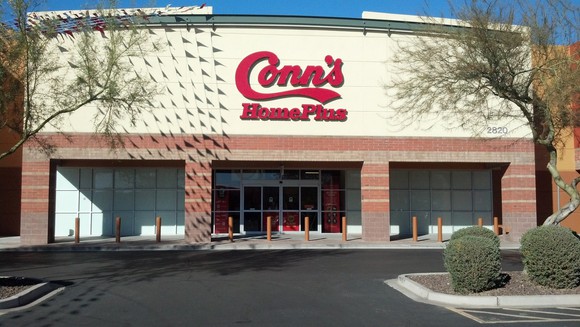 One of this year's biggest losers was a winner last week. Shares of Conn's (NASDAQ:CONN) soared 24% last week after posting fresh financials. The struggling chain of consumer electronics stores posted a narrower-than-expected loss in its latest quarter.
Conn's results for its fiscal second quarter won't dazzle even the most ardent of bulls. Total net revenue climbed 2% since the prior year to hit $332.4 million, but that was entirely the handiwork of new locations that have opened over the past year. Comps actually declined 5.1%. Back out the retailer's decision to stop selling video game products, digital cameras, and most tablets last year and comparable-store sales still fell a problematic 4.6%. Comps fell across all four of its product categories, including furniture and home appliances which each account for a little more than a third of all store sales.
The store-level sales performance is a sharp contrast to what niche leader Best Buy (NYSE:BBY) reported late last month. Best Buy may have posted flat enterprise sales, but that was with fewer stores after a few closings. Comps actually rose 0.8% for the period. That may be a modest uptick, but it's a relative victory when pitting Best Buy against Conn's for the July quarter.
The bottom line at Conn's checked in with loss of $0.39 a share, reversing a year-ago profit. Back out the one-time charges and credits as well as the impact of the changes in estimates related to its troublesome credit portfolio and the deficit clocks in at $0.04 a share. That's still red ink, but analysts were holding out for a...
More