Balance sheet normalization has been expected from the market since the Federal Reserve began hiking rates more confidently in December 2016. Since, it has increased three times – December, March, and June to put the federal funds rates at 1.00%-1.25%.
Throughout this time, the Fed has kept its balance sheet at a size of $4.5 trillion, which refers to the "QE money" that was put into the financial markets in order to boost asset prices and support the growth of the US economy.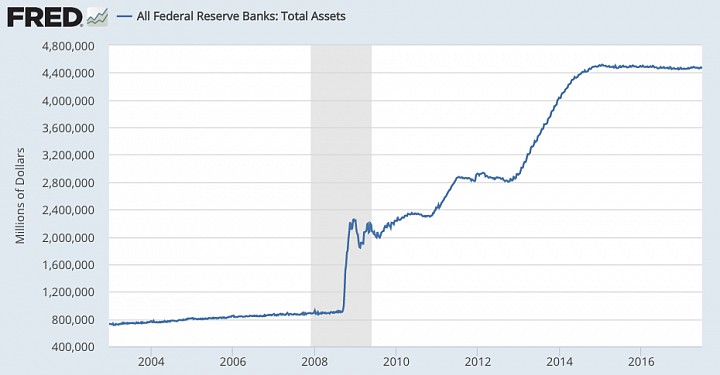 (Source: Federal Reserve)

The Fed is unlikely to hike rates in September. Chances of a 25-bp increase are about 10% at each of the September and November meetings and around 50% by the December meeting. Instead, the Fed hinted it will likely announce balance sheet normalization in September – and begin in October for the start of Q4 – rather than plan for another rate increase.
In general, the Fed would prefer to keep its policy simple and avoid any market roiling by both announcing a rate hike and announcing a run-off of balance sheet assets at the same time. As with any "experiment" – especially one as large as the US/world economy – it's often better to just manipulate one variable at a time. Therefore keeping policies separate is the best way to go.
The general trajectory
The initial run-off will be gradual, then accelerate over time.
In the opening months, Treasuries will be run-off at $6 billion per month, with mortgage-backed securities (MBS) at $4 billion per month. These amounts will be increased quarterly by $6 billion per month for Treasuries and $4 billion per month for MBS. This process will go on until Treasuries are run-off at $30 billion per month and MBS at $20 billion per month.
Accordingly, by Q1 2019, assuming matters go to plan, the maximum monthly run-off amounts should be in place, equating to $600 billion per year. In 2017, it will be $30 billion and in 2018 will be $420 billion.
The run-off will likely be in the $1.5 trillion to $2.0 trillion range to give an overall balance sheet total of $2.5-$3.0 trillion. This is significantly higher than the pre-crisis level of under $1 trillion, but justifiable at the higher amount due to a ~7% year-over-year growth in the demand for currency.
The overall process should therefore end by year-end 2020 if run-off is in the $1.5 trillion to $1.65 trillion range, or up until Q3 2021 if the targeted run-off is as high as $2 trillion.
Conclusion
Policy, of course, is also predicated on economic data. The Fed would surely suspend balance sheet run-off if growth went negative and could begin cutting rates again before the intended run-off is complete and start QE again.
The Fed is likely to telegraph these moves further before the official policy announcement in September and actual initiation the following month (as it stands currently). This will help gauge how the US equity and bond markets react to the initiative, important given how so much of the Fed's policy runs through the financial markets.
So far this year, each of the main indices – S&P 500 (SPY), NASDAQ (QQQ), Dow Jones (DIA), and Russell 2000 (IWM) – have seen gains this year with low volatility. US Treasuries across all durations (related tickers: BIL, SHY, IEF, TLT) have also seen gains as inflation expectations have receded since late January.