To all 20-something math PhDs whose hopes of rigging markets and igniting (upward) momentum with the Fed's explicit blessing, leading to 8 figure annual salaries, had been dashed in recent years as Getco, Citadel, and all other HFT firms now directly cannibalize each other in a imploding market in which there are almost no size order blocks left to frontrun, pardon, provide "liquidity" to, we have good news: SAC Capital is hiring. Pardon: we mean Point72: after all SAC was busted for being the biggest criminal melting pot of insider trading in the past 20 years, but since its owner is rich enough to LBO the DOJ just by selling a couple of Monets, the only punishment was for the old SAC corporate logo to suffer a death sentence.
Whether or not the replacement logo is just as proficient in cooperating with "expert networks" remains to be seen, but its new, old owner sure has a sense of humor. Behold the Mission and Values statement of the brand new Point72 Asset Management website:
Our Mission

 

To be the industry's premier asset management firm through delivering superior risk-adjusted returns, adhering to the highest ethical standards and offering the greatest opportunities to the industry's brightest talent.

And:
I want Point72 to be a great firm with a strong sense of community that always acts with integrity and professionalism and sets the standard for ethical behavior."
      Steve Cohen, Chairman and CEO
Like we said: pure humor.
But back to the good news for the Math PhDs who in the New Normal are better known as "traders."
Behold some of the career opportunities available for Math PhDs, pardon "traders" at SAC: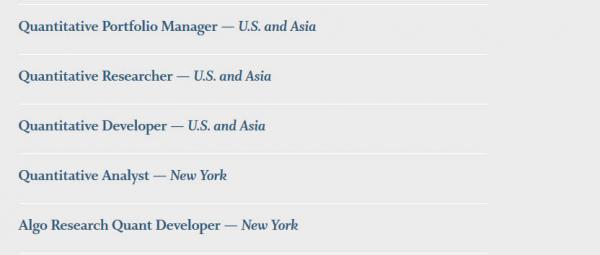 Drilling down:
Quantitative Portfolio Manager - U.S. and Asia
About Cubist

 

Cubist Systematic Strategies deploys systematic, computer-driven trading strategies across multiple liquid asset classes, including equities, futures, and foreign exchange. The core of our effort is rigorous research into a wide range of market anomalies, fueled by our unparalleled access to a wide range of publicly available data sources. Over the long run, the most creative and innovative Portfolio Managers have also been the most successful. The organization is structured to strongly support Portfolio Managers and researchers in their research efforts.

 

About the Role

 

We are constantly looking for Portfolio Managers who have an outstanding academic and professional track record, with hands on experience running systematic, statistically-driven, scalable trading strategies. Portfolio Manager candidates should have experience with all aspects of the research process including methodology selection, data collection and analysis, testing, prototyping, backtesting, and performance monitoring. We seek individuals who are innovative, intellectually driven with an intense curiosity about financial markets and human behavior.
Of course, when SAC, darn there we go again: Point72, there much better, says "publicly available" data they really mean "inside sources." And when they refer to "creative and innovative" PMs, they mean those who are willing to take on the longest period of jail time in exchange for not ratting out the boss.
And it that wasn't enough, SAC, ugh, Point72 is now going straight to college where it will hire "creative and innovative" math PhDs right out of college to teach them the highest ethical standards of combing through "publicly available data sources."
To wit:
Point72 Academy
In 2014, the Firm launched the Point72 Academy. The Academy develops undergrads straight out of college into highly-skilled investors on an accelerated timeline.
From the day they start, Academy members have substantial responsibility and opportunities to contribute in a small team setting.
Today, more than half of Point72's current Portfolio Managers started as Analysts and the Point72 Academy will grow that number over time.
Among the topics that will not be covered at the Academy: the definition of "insider trading"