Chipotle (CMG) has flattened the sharp bearish trend it was in entering the year. However, it has not been able to find a price bottom to rally from. Instead the bearish bias is still very much alive, at least from the technical perspective.
CMG Daily Chart 10/17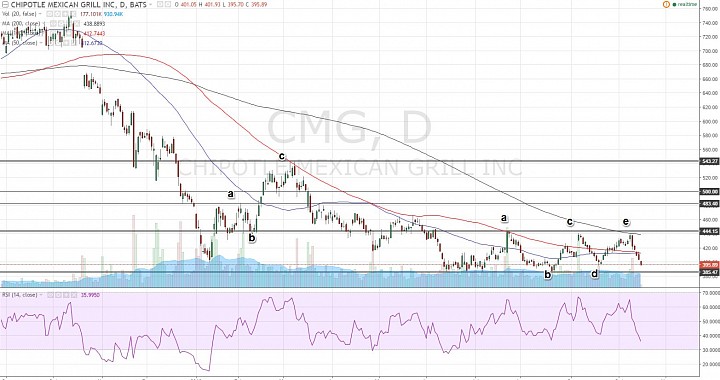 (click to enlarge)
Bearish continuation and consolidation:
- After the ABC correction essentially in Q1 of 2016, CMG fell to a new low on the year at 385.50 before finding support again.
- Here CMG started to form a consolidation range above that 385.50 support and below resistance at 444.15.
- Price is now heading back towards the 385.50 support.
- Note that the range has completed the structure "abcde", which suggests a completed consolidation pattern based on Elliott Wave Principles.
- Basically, what I am suggesting is that we do not treat 385.50 with anticipation of support outside of the very near-term.
- The height of the current range is about 60 points (384 - 444, rounded off because this is not meant to be precise but a guideline for projection). 358.50-60 = 298. Based on a breakout projection, we should anticipate a dip towards 300 if price does break below 385.50.