U.S. has expressed concern about 'unacceptable' new attacks in Mariupol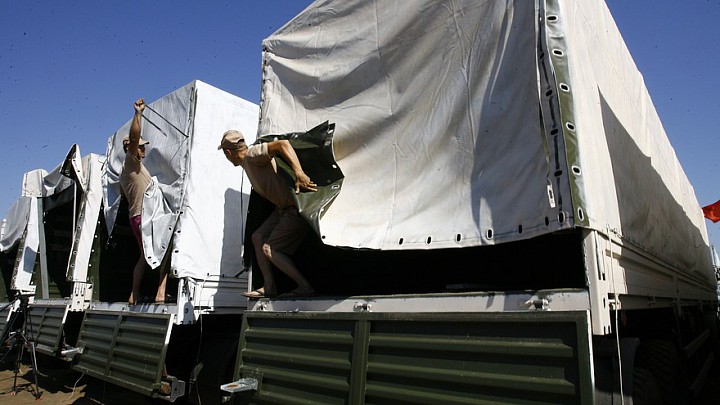 AFP/Getty Images
Drivers of a Russian humanitarian convoy open the lorries at a field outside Kamensk-Shakhtinsky in Russia's Rostov region, about 19 miles from the boarder with Ukraine.
The U.S. and its European allies are discussing additional sanctions on Russia over its actions in Ukraine, Secretary of State John Kerry said ahead of a meeting with U.K. Foreign Secretary Philip Hammond.
What is happening in Mariupol was "simply unacceptable," Kerry said Saturday. The U.S. has expressed concern about new attacks near the port, which is the largest city outside of separatist control in the conflict area in Ukraine.
Ukrainian security spokesman Col. Andriy Lysenko said Saturday that government forces were bracing for a potential attack on Mariupol by increasing the amount of weapons and troops in the area.
"We are talking about additional sanctions, additional efforts," Kerry said. "I'm confident that over the course of the next days, people are determined to make it clear we're not going to play this game, we're not going to sit there and be part of this kind of extraordinarily craven behavior at the expense of the sovereignty and integrity of a nation."
The U.S. and its European allies have stepped up warnings of additional sanctions on Russia unless cease-fire violations in eastern Ukraine stop. The government in Kiev said Friday that more Russian tanks and other weapons were crossing the border to bolster pro-Moscow separatists.
The peace plan was brokered by the leaders of France and Germany in Minsk, Belarus, on Feb. 12, but the first step—a truce—has yet to fully take effect.
For an expanded version of this story, go to WSJ.com