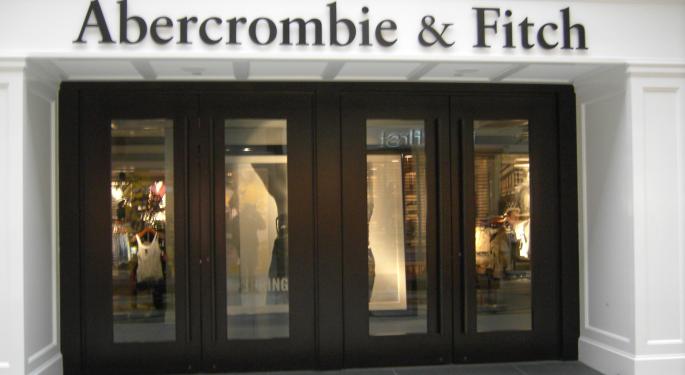 Turns out investors aren't the only ones for whom traditional retailers are falling out of favor.
As Wall Street has turned their back on the retail companies and brands of yesteryear, so have consumers--specifically when it comes to Abercrombie & Fitch Co. ANF.
According to TickerTags, which monitors social media sites to identify trends by searching for words and phrases that appear together in social media content, organic social mentions of "Abercrombie" and "Hollister", which is owned by Abercrombie, were down 46% and 45% respectively in Q2 year over year.
Even though sentiment has generally remained positive, the decline in mentions indicates lack of consumer interest. However it's worth noting that both brands historically get spikes in social mentions around the holiday season.
Abercrombie stock closed Monday trading at $22.95, down 17% year to date. They report earnings Tuesday morning, with analysts predicting a $(0.20) EPS on $782.1 million in revenue.
The chart below shows how social mentions for the clothing retailer have declined in the last two years.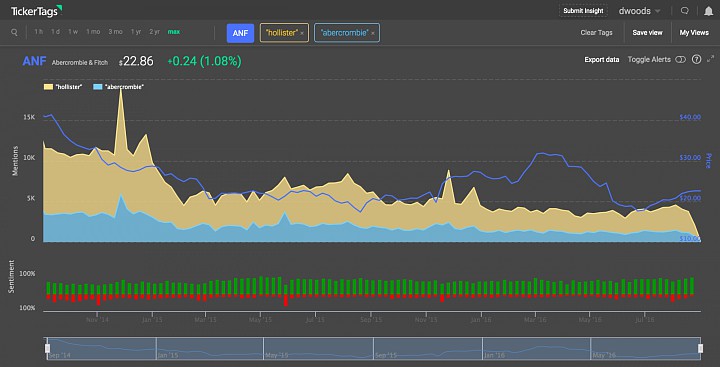 © 2016 Benzinga.com. Benzinga does not provide investment advice. All rights reserved.