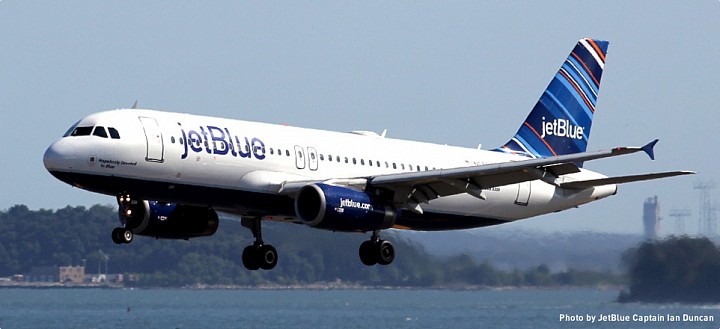 (Image Source: JetBlue.com) 
Yesterday I wrote a post titled, Analysis on the Airline Industry: Is JetBlue Under Price?, today I want to look a little closer at JetBlue (NASDAQ:JBLU) specifically. JetBlue is trading 20 times its earnings, this is quite high but not overpriced,in my opinion, between 10 and 15 is a good number for me. On the other hand, JetBlue's book value per share is around $6.84 yet the company is trading at $6.35 per share. Lets take a look at why the market is valuing this company so low.
JetBlue has more current liabilities than current assets, this is usually not a good sign for a company. The current ratio is 0.69, a healthy company should have a current ratio of about 2 (indicating $2 in current assets to repay every $1 in current liabilities). In addition, JetBlue has a large amount of long term debts representing 34% of assets. Allegiant Travel company (NSADAQ:ALGT) has a current ratio of 2 and total long term debts of 17% of total assets. JetBlue's debt ratio is .70 while Spirit Airlines (NASDAQ:SAVE) has a debt ratio of .37.
All and all, you can see from the analysis of the balance sheet that other airline companies are stronger, this makes up for the low valuation on JetBlue. Comparing the fundamentals of Spirit and Allegiant Air, you can see why investors choose these companies over JetBlue.  The argument many analysts make, however, is that investors should look past the company's balance sheet and look at the potential.  Of all airline companies, JetBlue is excellent on customer satisfaction and has been trying to increase profitability.
What do you guys think?