ETSY was one of the strong winners yesterday as the S&P500 took to record highs. Let's take a look at the technical picture of ETSY as it attempts to turn the corner. 
For some insight on the company, you can read this informative piece: Etsy: handmade growth stock
ETSY 4H Chart 7/13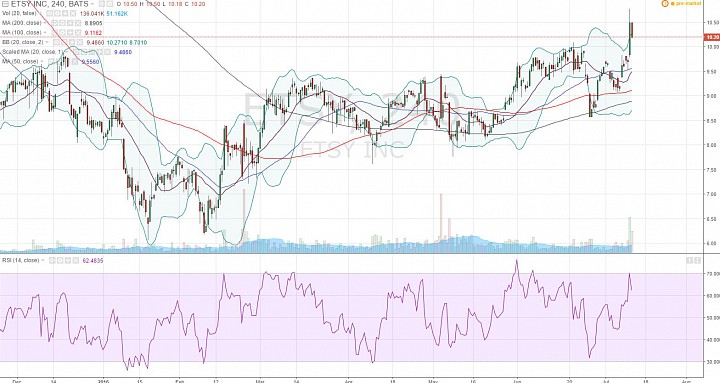 (click to enlarge)
2016 has been bullish:
The 4H chart shows that ETSY has been in a bullish mode in 2016.
There was a double bottom in January-February. 
Then after a consolidation from March throughout May, price started to move up in June. 
After retreating from 10.00, ETSY was able to hold above 8.50 and continued to push above 10.00. 
ETSY Daily Chart 7/13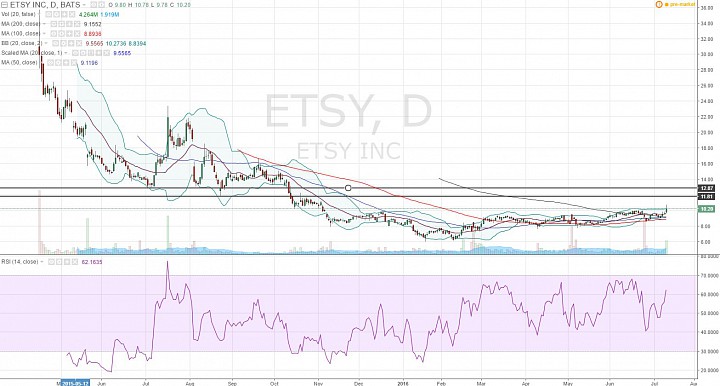 (click to enlarge)
Bearish since IPO:
The daily chart shows that ETSY has been bearish since its IPO in May 2015. 
It did start to flatten out in early 2016 - the double bottom.
Bullish Outlook: 
More than a year later, we are finally seeing a price bottom materialize. 
But because of the prevailing bearish bias, we should limit the upside for now to the 11.80-12.80 area.
This is an area that involves some previous support/resistance pivots, so we should expect some resistance here, especially if the RSI pushes to 70.
Trade idea:
I would pick up ETSY around 10.00, with a stop below 9.50 (like 9.30) and a target of 11 and 12 - risking 7-8% for 10-20%.