Twitter, Inc.'s TWTR adjusted loss per share of 2 cents was narrower than the Zacks Consensus Estimate of a loss of 12 cents per share. Revenues of $573.9 million beat the Zacks Consensus Estimate of $536.8 million.
However, on a year-over year-basis, revenues fell 4.7%. Monthly average users (MAUs) of 328 million remained unchanged from the prior quarter but grew 5% year over year. Daily average users (DAUs) were up 12% year over year
Concerns over user growth once again caused panic among investors resulting in over 13% plunge in stock price in the pre-market session.
Quarterly Numbers in Details
The company posted non-GAAP earnings of 8 cents per share, unchanged from the prior-year quarter.
Twitter, Inc. Price, Consensus and EPS Surprise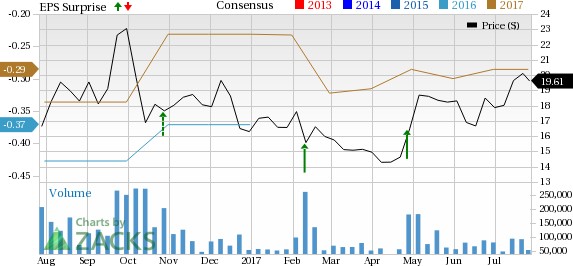 Twitter, Inc. Price, Consensus and EPS Surprise | Twitter, Inc. Quote
Advertising revenues were down 8% in the quarter to $489 million. As far as ad metrics are concerned, there was a 95% year-over-year surge in ad engagements. However, cost per ad engagement was down 53%, given the shift to auto-play video, which has a lower cost-per-view compared to click-to-play.
Data licensing and other revenues increased 26% to $85 million.
Twitter earned nearly 41.6% of its revenues from international markets. International revenues fell 1% year over year to $239 million in the reported quarter while the U.S. revenues decreased 7% year over year to $335 million.
Twitter's adjusted EBITDA rose 1.7% to $178 million. The company reported an operating loss of $38.4 million, which compared favorably with a loss of $86.4 million reported in the year-ago quarter.
As for Twitter's live efforts, the company said it streamed over 1200 hours of live video, encompassing some 625-odd events with 55 million unique viewers.
Balance Sheet & Cash Flow
At the end of Jun 30, 2017, cash and cash equivalents (short-term investments) were $4.1 billion compared with $3.8 billion at the end of Dec 31, 2016. For the quarter, cash flow from operations was $189.7 million and adjusted free cash flow was $214.6 million.
Outlook
For 2017, stock-based compensation is expected to decrease in a range of 25–30% year over year while capex will be in a band of $300–$400 million. Expenses are expected to decrease 3–6% year over year.
For the current quarter, adjusted EBITDA is expected to be in a range of $130–$150 million while EBITDA margin is likely to be in a band of 25–26%.
Our Take
In the first quarter, the company's users jumped from 319 million to 328 million, sending signals that Twitter's turnaround efforts had finally started to pay off. This has somewhat renewed interest in the stock.
In the past three months, shares of Twitter surged 19% compared with an 8.2% gain seen in the industry.

However, Twitter's user growth disappointed big time this quarter. At just 328 million users, Twitter falls way behind other social media services like Facebook Inc. FB, which has over 2 billion users. Also, revenue growth rate is decelerating. The complex nature of the service is often considered a major hindrance to user growth.
Though the company is working hard to bring about a turnaround, it seems that the efforts are still going to take time to yield desired results. Currently, the company is focusing on Live video content, a flurry of live streaming deals, user friendly changes, measures to curb the trolling menace, divestment of non-core operations as well as layoffs. But all these are yet to move the needle for Twitter.
In addition, stiffening competition for ad dollars from the likes of Alphabet GOOGL, Facebook and Snap Inc SNAP are highly concerning.
At present, Twitter sports a Zacks Rank #1 (Strong Buy). You can see the complete list of today's Zacks #1 Rank (Strong Buy) stocks here.
More Stock News: Tech Opportunity Worth $386 Billion in 2017
From driverless cars to artificial intelligence, we've seen an unsurpassed growth of high-tech products in recent months. Yesterday's science-fiction is becoming today's reality. Despite all the innovation, there is a single component no tech company can survive without. Demand for this critical device will reach $387 billion this year alone, and it's likely to grow even faster in the future.
Zacks has released a brand-new Special Report to help you take advantage of this exciting investment opportunity. Most importantly, it reveals 4 stocks with massive profit potential.
Want the latest recommendations from Zacks Investment Research? Today, you can download 7 Best Stocks for the Next 30 Days.
Click to get this free report
Facebook, Inc. (FB): Free Stock Analysis Report
Alphabet Inc. (GOOGL): Free Stock Analysis Report
Twitter, Inc. (TWTR): Free Stock Analysis Report
Snap Inc. (SNAP): Free Stock Analysis Report
To read this article on Zacks.com click here.
Zacks Investment Research