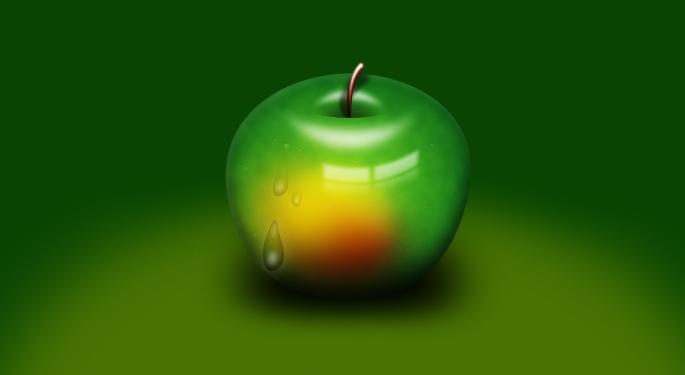 It wasn't supposed to play out this way. Wall Street analysts were once calling for Apple Inc. AAPL 1.1%'s valuation to top $1 trillion. As of Thursday's market close, shares of Apple need to nearly double to reach this lofty valuation.
Is Apple In Trouble?
According to CNBC's Phil Han, Apple has suffered a "bad week" following reports the company is worried that demand for its upcoming smartphone will fall short of what shareholders are expecting.
Han added that Taiwan Semiconductor Mfg. Co. Ltd. (ADR) TSM 0.57% is also believed to be slashing production of the A10 chip by 70 to 80 percent. The chip would be used by Apple to power its upcoming iPhone 7 device.
Meanwhile, some Wall Street analysts are expecting iPhone sales to be down by as much as 30 percent in the bottom half of 2016, Han noted.
"All the fear has sent Apple's share price to 2-year lows," Han said. "With global smartphone sales on the decline, is it any wonder that Apple is trying to diversify?"
Han expanded that Apple has now expanded into China-based Didi Chuxing through a $1 billion investment. The company is China's main rival to Uber and was made ahead of the company's CEO Tim Cook's visit to the country next month.
© 2016 Benzinga.com. Benzinga does not provide investment advice. All rights reserved.