One of the world's largest medical technology, services and solutions companies, Medtronic plc MDT is making efforts to expand its Pelvic Health & Gastric Therapies business, part of the company's core Restorative Therapies Group. The company has announced that its InterStim system provides sustained long-term efficacy and improved quality of life for overactive bladder (OAB) patients at the end of five years.
What is the InterStim system?
Notably, the InterStim system delivers sacral neuromodulation therapy for bladder control issues. InterStim therapy uses neuromodulation or gentle nerve stimulation to normalize the brain-bladder communication pathway. On the other hand, OAB hampers the quality of life by disturbing the routine activities of individuals because of urinary incontinence and excessive urination.
InterStim system is thought to restore bladder function by targeting the sacral nerves to help alleviate symptoms.
Taking the rapidly growing market of OAB into consideration, we expect this development to be perfectly strategic for Medtronic. Going by data provided by Medtronic, the number of OAB patients in America is over 37 million, which implies that one in every six individuals faces the problem in America. According to a market research report by Technavio's analysts, the OAB therapeutics market will see a CAGR of almost 2% during the 2017–2021 period.
InSite study results revealed that 82% of OAB patients had therapeutic success (greater than 50% improvement in symptoms) at the end of five years with sustained, safe and better quality of life. Notably, thestudy assessed the efficiency and safety of the system at five-years in patients who had bothersome OAB symptoms and could not tolerate more traditional treatments, including urinary urge incontinence (UI) and/or urgency-frequency (UF). However, implanting an InterStim system is as risky as any surgical procedure. Device-related unfavorable events were undesirable change in stimulation, implant site pain and ineffectiveness.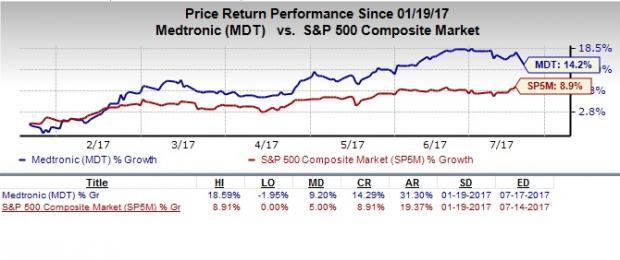 Over the last six months, Medtronic has outperformed the S&P 500 index. As per the latest share price movement, the company has gained 14.3%, compared to the S&P 500's 8.9% gain.
Zacks Rank & Key Picks
Medtronic currently carries a Zacks Rank #3 (Hold). A few better-ranked medical stocks are Mesa Laboratories, Inc. MLAB, INSYS Therapeutics, Inc. INSY and Align Technology, Inc. ALGN. Notably, Mesa Laboratories and INSYS Therapeutics sport a Zacks Rank #1 (Strong Buy), while Align Technology carries a Zacks Rank #2 (Buy). You can see the complete list of today's Zacks #1 Rank stocks here.
Mesa Laboratories has a positive earnings surprise of 2.84% for the last four quarters. The stock has added roughly 8.5% over the last three months.
INSYS Therapeutics has a long-term expected earnings growth rate of 20%. The stock has gained around 18.8% over the last three months.
Align Technology has an expected long-term adjusted earnings growth of almost 24.1%. The stock has added roughly 32.9% over the last three months.
5 Trades Could Profit "Big-League" from Trump Policies
If the stocks above spark your interest, wait until you look into companies primed to make substantial gains from Washington's changing course.
Today Zacks reveals 5 tickers that could benefit from new trends like streamlined drug approvals, tariffs, lower taxes, higher interest rates, and spending surges in defense and infrastructure. See these buy recommendations now >>
Want the latest recommendations from Zacks Investment Research? Today, you can download 7 Best Stocks for the Next 30 Days.
Click to get this free report
Mesa Laboratories, Inc. (MLAB): Free Stock Analysis Report
Medtronic PLC (MDT): Free Stock Analysis Report
Insys Therapeutics, Inc. (INSY): Free Stock Analysis Report
Align Technology, Inc. (ALGN): Free Stock Analysis Report
To read this article on Zacks.com click here.
Zacks Investment Research