The subject of bail-ins and bank resolutions is back in the news this month as every eurocrat in Brussels scrambles to determine the best way to recapitalize Greece's ailing banking sector, which, you're reminded, is sinking further into insolvency with each passing day thanks to the unyielding upward pressure on NPLs that's part and parcel the country's outright economic collapse. 
And while you could be forgiven for focusing squarely on the trainwreck that's occurring in Athens, it would be a mistake to ignore the fact that just a few months back, a black swan landed in Austria when a €7.6 billion capital hole was "discovered" in Heta Asset Resolution, the vehicle set up to resolve the now defunct lender Hypo Alpe-Adria-Bank. 
In short, the bad bank went bad, and when it became clear that no further state support was forthcoming, Heta Asset Resolution was itself put into resolution and a moratorium on bond payments was declared.
The debacle raised a number of troubling issues not the least of which involves the beautifully picturesque southern Austrian province of Carinthia, which had guaranteed some €10 billion worth of Heta debt despite the rather inconvenient fact that annual provincial revenues only amount to around €2.3 billion.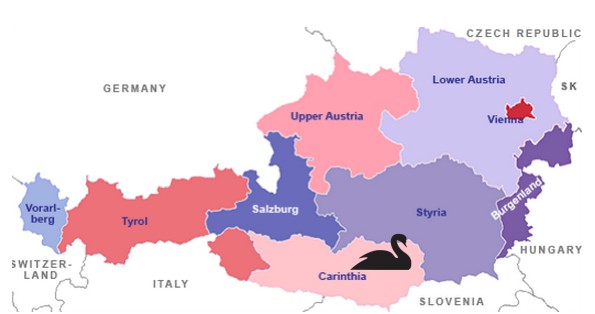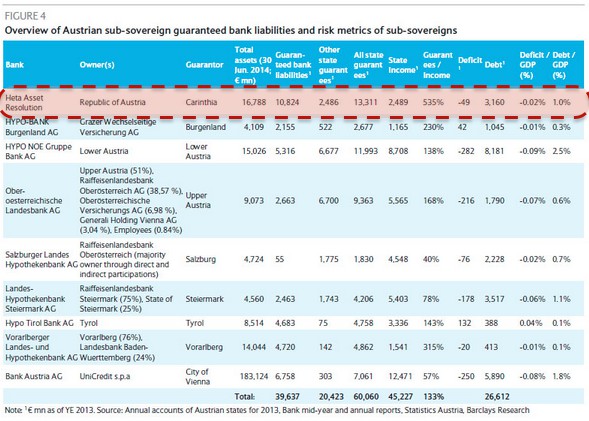 So here was a bad bank gone bad with billions in outstanding debt that carried public sector guarantees or, as we described it previously, "we now have a waterfall bailout chain whereby the state guaranteeing the debt of the insolvent entity that guaranteed yet another insolvent entity, will itself need to be bailed out by the sovereign."
We went on to note (in what now looks remarkably prescient with regard to Greece) that "while the world waits for Greece to announce capital controls, or a bail-in, it's none other than one of the Europe's most pristine credits (one which until recently was rated AAA/Aaa) that informed creditors a bail-in is imminent: 'The finance ministry noted that creditors can be forced to contribute to the costs of winding down Heta - or bailed in - under new European legislation that Austria adopted this year so that taxpayers do not have to shoulder the entire burden.'"
Or maybe not, because now, it appears as though the law which would have allowed for the imposition of some €800 million in losses on junior bondholders (i.e. a bail-in) has been ruled unconstitutional, meaning the debt will now be reinstated under the moratorium which is bad news for Carinthia and ultimately, for taxpayers. Here's FT with more:
An attempt by Austria to slash the cost to taxpayers of Hypo Alpe Adria bank, a high-profile European casualty of the financial crisis, by imposing losses on some bondholders has been thrown out by the country's top judges.

 

In a ruling that came as relief for investors who feared a precedent would be set for other European bank failures, Austria's constitutional court on Tuesday declared illegal a law that would have "bailed in" €890m in subordinated debt.

 

The act would have breached the constitution by reversing guarantees given to bondholders by the province of Carinthia as well as treating investors unfairly, the court ruled. The law would be "repealed in its entirety", the judges said in a statement.

 

Introduced last year by Michael Spindelegger, then finance minister, the law created alarm in Austria and elsewhere in Europe amid fears investors would question the value of guarantees given by other regional governments — for instance in Germany.

 

The Austrian law highlighted the pressures on European politicians to limit the impact of bank failures on stretched government finances. Mr Spindelegger "needed something to show the electorate he would prevent taxpayers bearing the cost", said Josef Christl at Macro-Consult, a Vienna-based financial consultancy. "It was a political decision, not economically or legally based."

 

Tuesday's constitutional court reversal was "a good decision for bondholders but it's embarrassing for the government. This was not a law you would have expected from Austria and a lot of PR damage has been done," added Franz Schellhorn, director of the Agenda Austria think-tank.
Got it. So essentially, the finance ministry passed a law they knew was unconstitutional in order to pay lip service to taxpayer concerns regarding whether the government would ultimately end up on the hook for enormous losses at banks. Meanwhile, private sector creditors were unnerved by the law because they feared it might set a precedent for bail-ins going forward. For now at least, it looks as though the creditors have prevailed.
Here's a bit more from Bloomberg:
Austria is breaking new ground in Europe with the wind-down of Heta, the bad bank of failed Hypo Alpe-Adria-Bank International AG. Lawmakers in Vienna last year enacted legislation that wiped out Heta's junior debt and the state guarantees on which creditors had relied. That bill preceded Heta's own resolution, which kicked off in March when regulators imposed a moratorium on its remaining debts.

 

The debt moratorium, as well as Austria's bank restructuring law on which it is based, are expected to become the subject of a separate case at the Constitutional Court, court president Gerhart Holzinge said.

 

The Constitutional Court's decision comes less than a month after Austria agreed to pay 1.23 billion euros to the German state of Bavaria to settle all the pending litigation over Heta between the neighbors. Under the deal, BayernLB will drop its claim concerning 800 million euros it was owed by Heta and that were also reinstated by today's court decision, according to the Austrian finance ministry.

 

Austrian lawmakers may be well advised to read the Constitutional Court's ruling closely and draw their conclusions for the future, Holzinger said. If the cancellation of guarantees is necessary to prevent the collapse of Carinthia, bailing in bondholders of Heta while sparing all other creditors of Carinthia won't work, he said.
In short, the ruling raises more questions than it answers. If Austria has just declared creditor bail-ins to be unconstitutional, then one certainly wonders what that means in terms of the future scope of government-sponsored bailouts especially in light of the potential for a domino-like collapse, as outlined in our discussion of Pfandbriefbank back in March. Furthermore, as indicated in the excerpts cited above, the case is far from over as the legality of the moratorium as well as the fate of the entire wind down effort still hangs in the balance. Here's FT again:
Investors may not get any answers until they find out the amount of their shortfall in May 2016, when Heta knows how much money it can pay bondholders, so lawsuits could be years away.

 

"This discussion is not helpful for the market, this is clear," said Karl Sevelda, chief executive of Austria's Raiffeisen. "The consequences of uncertainty are never good because investors want certainty."
Finally, it's unclear what, if any, impact this will have on how resolutions for failed banks are handled across the eurozone. As one lawyer who spoke to FT back in April put it, "there will be extremely important precedent set" in terms of "how publicly guaranteed debt should be dealt with when banks are wound down." Which raises the rather interesting question of how Greek banks' Pillar II "assets" (some of which may or may not have been pledged for ELA) will ultimately be treated when it comes time to recapitalize the country's banking sector.