Microsoft Corp. MSFT recently announced that it will be updating Skype based on the feedback received from users after a redesigned version of the application was rolled out in June. The redesigning was intended to turn it into a messaging application, typically to increase its usage compared to the likes of Facebook's FB Messenger, its subsidiary WhatsApp and other similar applications like WeChat and Snapchat.

However, the updated version did not receive much positive feedback from users. They were particularly unhappy with the unavailability of certain functionalities like status display and removal of a number of emojis.
Notably, a few of the added features have been widely accepted. These will be retained in the updated version, which is in the process of being rolled out. Microsoft has taken suggestions from Skype users and the updated version will include the suggested changes.

Microsoft's decision to implement the user-demanded changes in Skype will improve adoption rate in our view. We note that Skype is an important part of the Office 365 product suite, which along with Windows 10 and Azure have helped the company outperform the S&P 500 on a year-to-date basis. While the index has gained 11.4%, the stock returned 19.4% over the same time frame.



Skype's Impact on Microsoft

Microsoft acquired Skype for $8.5 billion in 2011. However, the communication software has failed to meet expectations, despite continuous updates to make it more user friendly over the last six years.

Nevertheless, we note that Skype for business has experienced strong adoption rate. A recent survey by Image and Data Manager, conducted among 450 information technology professionals, showed that Skype for Business was the highest used collaborative chat application with 36% organizations using the same.
Microsoft Corporation Revenue (TTM)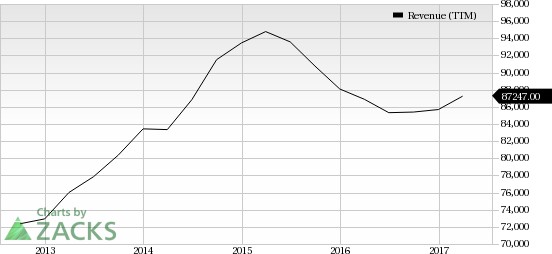 Microsoft Corporation Revenue (TTM) | Microsoft Corporation Quote
Per MarketsandMarkets, the Enterprise Collaboration market is projected to touch $49.51 billion in 2021 from $26.68 billion in 2016, at a compound annual growth rate (CAGR) of 13.2%. We believe Microsoft is well poised to grab the opportunity with Skype for Business coupled with Microsoft Teams, another chat based workspace tool in its Office 365 software suite.
The changes in the features of Skype, on consumer demand, are likely to increase its adoption. This will eventually boost its top line.

Zacks Rank & Key Picks

Microsoft sports a Zacks Rank #1 (Strong Buy).

Other stocks worth considering in the technology space are Applied Optoelectronics, Inc. AAOI and Cypress Semiconductor Corporation CY, both sporting a Zacks Rank #1. You can see the complete list of today's Zacks #1 Rank stocks here.

The long-term earnings growth rates of Applied Optoelectronics and Cypress Semiconductor are projected to be 6.1% and 11.1%, respectively.

5 Trades Could Profit "Big-League" from Trump Policies

If the stocks above spark your interest, wait until you look into companies primed to make substantial gains from Washington's changing course.

Today Zacks reveals 5 tickers that could benefit from new trends like streamlined drug approvals, tariffs, lower taxes, higher interest rates, and spending surges in defense and infrastructure.
See these buy recommendations now >>
Want the latest recommendations from Zacks Investment Research? Today, you can download 7 Best Stocks for the Next 30 Days.
Click to get this free report
Facebook, Inc. (FB): Free Stock Analysis Report
Cypress Semiconductor Corporation (CY): Free Stock Analysis Report
Microsoft Corporation (MSFT): Free Stock Analysis Report
Applied Optoelectronics, Inc. (AAOI): Free Stock Analysis Report
To read this article on Zacks.com click here.
Zacks Investment Research