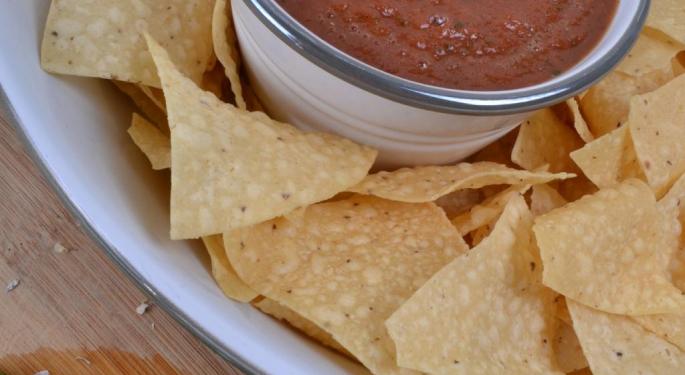 Over the last two quarters, Chipotle Mexican Grill, Inc. CMG 0.35% has suffered a terrible loss of business due to E. coli outbreaks. Many investors thought this would leave a window open for competitors to capture market share.
Jack in the Box JACK 5.24% - owner of Chipotle's main competitor, Qdoba - has outperformed Chipotle this year in growth, something that wasn't seen in 2014 and 2015. Jack in the Box beat earnings, which came in at 0.85 vs. the consensus estimate of $0.70; Chipotle Q1FY2016 EPS came in at $(0.88) last month.
Is Qdoba benefiting from Chipotle's downfall?
Although Jack in the Box substantially beat earnings, Qdoba's portion of revenue in the company fell 50 basis points to 18.23 percent with relatively flat revenue growth. The press release said this was because "costs associated with a greater number of new restaurant openings and higher promotional activity more than offset the sales growth and benefits from commodity deflation of approximately 4.6 percent in the quarter."
Chipotle's earnings and revenue clearly displayed consumers avoiding the company due to E. coli fears, but Qdoba hasn't been able to capture significant market share from the opportunity.
In its Q3 guidance, Jack in the Box said, "Same-store sales ranging from approximately down 1.0 percent to up 1.0 percent at Qdoba company restaurants versus a 6.6 percent increase in the year-ago quarter. Sales trends are tracking slightly below the low end of the guidance range due in part to adverse weather in key markets, but are expected to improve over the balance of the third quarter due to planned promotional activity."
As the window of opportunity closes, Chipotle may fully recover soon as its competitors fail to take advantage of the company's temporary weakness.
Shares of Jack in the Box closed down 5.24 percent at $65.14, but recently popped up 9.78 percent at $71.33 in the after-hours session.
Chipotle shares closed at $454.17.
© 2016 Benzinga.com. Benzinga does not provide investment advice. All rights reserved.