Rent-A-Center is best known among the lower/middle class segment of the U.S. population as the place one goes to if one can't afford (or doesn't want to) buy furniture or the latest, and not so latest, electronic gadget and would rather rent it out. This morning it is also known as one of the worst performing stocks on the Nasdaq, plunging over 27% to a price not seen since early 2010.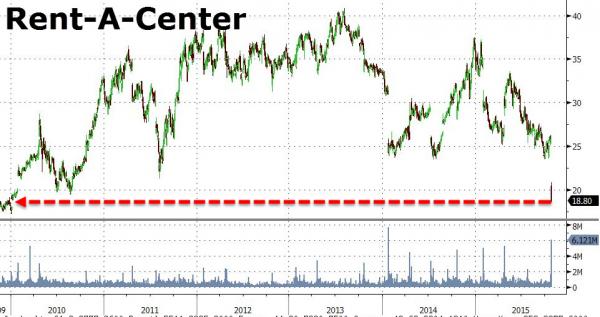 What happened?
First, there was the usual flurry of negative business considerations which accompany every economy that slides into a recession, such as Q4 forecasts below analysts' estimates while cutting its full-year profit forecast as Q3 sales in United States fell due to higher sales of low-margin merchandise and company closed about 100 underperforming stores.
The CFO added some much needed color adding "we are challenged by (sales of) computers which are down double digits, similar to the industry at large, and we have seen some headwinds in oil industry affected markets, such as parts of Texas," CFO Guy Constant says on conference call.
This was just the latest confirmation that the US consumer is struggling, not only with regular purchases, but even discretionary rentals.
But the biggest surprise was the following announcement in the press release:
Smartphone Write-Down:

 

During the third quarter, we determined that it was necessary to adjust our smartphone inventory primarily through the write-down of older generation phones, and via the acceleration of secondary market dispositions of excess phone inventory. Upon standing up the category a year ago, we purchased inventory to support new and older technology, and older generation phones fell short of our expectations while newer generation phones exceeded our expectations, resulting in excess phones. In connection with this decision, the company has recorded a $34.7 million pre-tax inventory write-down in cost of sales for the third quarter to account for these actions. Management is currently refining its approach to this profitable product category based upon our initial year of experience in this area.
This is very unexpected because lack of interest for "older technology" smartphones was never a reason for trouble, or writedowns, at RCII - or any of its peers - in the past, and while the company's and consumers' focus on the "latest and greatest" is understandable, these account for a sliver of profits in the smartphone segment for RCII.
More importantly, older technology is simply a way to say "cheaper" rentals, which basically targeted an even poorer segment of the lower/middle class.
That there has been such a profound drop off in demand for smartphone rentals begs the following two questions:
just how really cash-strapped is the U.S. consumer, especially that segment that is not in the upwardly mobile, top decile of incomes, and
is America's infatuation with smartphone gadgets finally coming to an end?
If the answer is two (or even one), then the world's most valuable stock set to report after the close today, is due for some very difficult times ahead as the magic spell hold of the iPhone on the average consumer may be finally dying. We hope to get some more color on end-demand when Apple reports earnings later today.