I have been watching the EUR/GBP quite carefully of late, as I think its one of the clearer pairs to trade based on macro developments.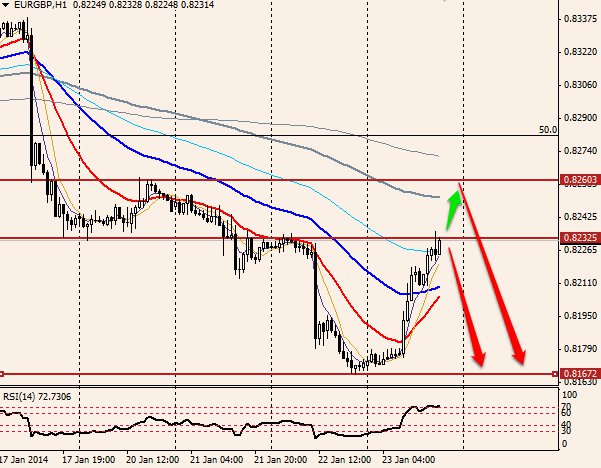 A run of strong UK data helped to push the pair through an important support at 0.8230. 
In the Thursday overnight session, the Euro-zone got a bit of good news in terms of stronger PMI report.

This helped the EUR across the board and the EUR/GBP pair, after falling to a low near 0.8170, bounced back up towards the old support level near 0.8230.

In NY trading, that level held as resistance. Now, one good data point for the Euro-zone does not undo the general narrative and datastream that shows the UK economy is much further along than the Euro-zone, which in my eyes continues to favor the GBP.

Therefore, my speculation is that the support here can turn to resistance and we have another downswing towards 0.8150. If not the current resistance level at 0.8230, the next resistance level would be 0.8260.

The 0.8150 downside target is an important one since its a pivot going back to 2012, as well as a 61.8% retracement of the upswing in 2012/early 2013. 

What also important to keep in mind, the EUR/GBP has a higher notional value so each pip is worth more than the EUR/USD for instance, and therefore the 80 pip target is really more like a 160 pip target.
So, as I ask in the headline, will the old level of support at 0.8230 now act as resistance and we get another down leg in the near term?