Why are stock soaring in response to the Fed statement and latest set of projections? Because as Bloomberg promptly calculated, the FOMC revised down all forecasts for 2015 since the previous SEP was released on Dec. 17.
The median dot for year end 2015 falls to 0.625% from 1.125% in Dec: a whopping 0.50% cut.
 So much for the "recovery."
The details:
The central tendency for GDP this yr is 2.3%-2.7% vs 2.6%-3%
Unemployment rate 5.0-5.2% vs 5.2%-5.3%
PCE inflation 0.6%-0.8% vs 1%-1.6%
Core PCE 1.3%-1.4% vs 1.5%-1.8%
And the one that matters most, the "dot plot", saw the median dot for 2016 fall to 1.875% vs 2.5%, and decline to 3.125% from 3.625% for 2017.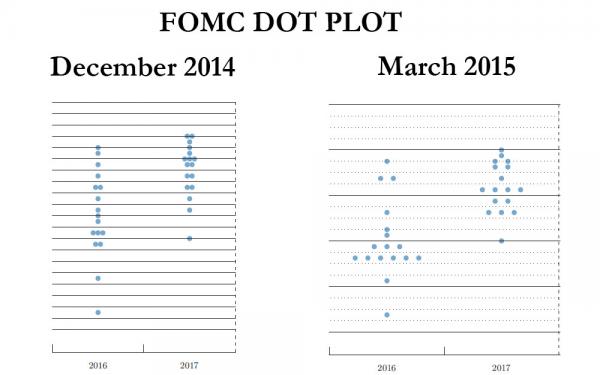 In other words, what the Fed just said is the following: "it's not the snow, it's the economy."
End Result: Goodbye recovery, hello stock surge.