BAC delivered a strong earnings and reported $0.37 per diluted shares cruising past earnings estimates.
Core businesses are performing extremely well and delivering great returns in a dismal external environment.
Expense management is also progressing very well and credit quality improved further year-on-year.
Non-core divisions, though, are still a exerting significant drag on RoTCE and the firm's valuation.
I now rate the stock a Buy with a target price of $19.40.
Bank Of America (NYSE:BAC) delivered very credible earnings this morning.
The key highlights include:
Deposits up $50 billion, loans (excluding Legacy Asset Servicing (NYSE:LAS) & All Others (AO) are up strongly and credit quality improved year-on-year
Non-interest expenses (ex-litigation) are down 4% year-on-year despite of additional CCAR-related compliance costs
Fully phased-in Basel III CET1 (under the advanced method) is up to an estimated 9.7%
Tangible book value is up 10% to an estimated $15.50 per share
The underlying business results are summarized below:

Global Markets performance is impressive
In a somewhat dismal capital markets environment - BAC's Global Markets division sustained a stable performance: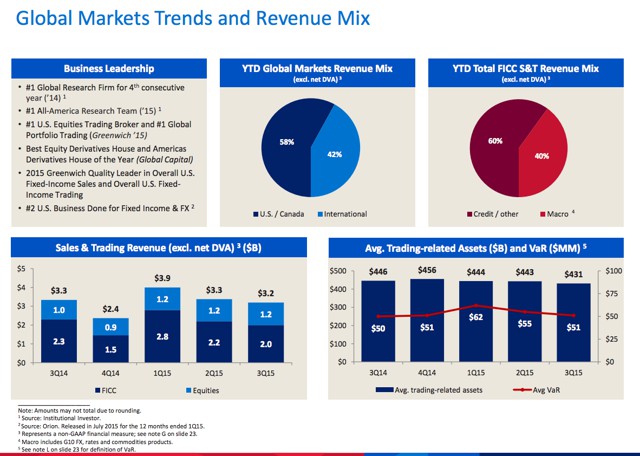 As can be seen from above, the Sales & Trading revenues are broadly flat year-on-year (Equity revenue offsets lower Fixed Income somewhat)...
More