Bitcoin $BTCUSD just underwent a hard fork, which created "bitcoin gold". Essentially this happens when the bitcoin community has enough consensus to create a coin with a slightly different code, with the motivation of becoming easier to adopt. Bitcoin gold plunged 66% after its inception, and the original bitcoin remains indecisive with slightly bearish price action.

CNBC - Bitcoin splits again, creating a new cryptocurrency called bitcoin gold that then plunged 66%
CoinTelegraph - Industry Leaders Give Perspective on Bitcoin Forks: Some Advantages, Many Problems

Bitcoin (BTCUSD) 4H Chart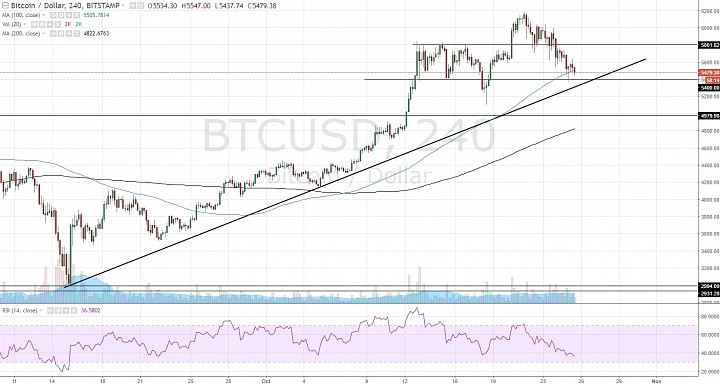 (click to enlarge)
At Support:
- BTCUSD has been sliding ahead of the fork, but only after almost reaching a record high of 6200.
- It hovers above 5500 at the moment.
- The 4H chart shows that this area just above 5400 is a previous support, and now coincident with a rising trendline support.
- I think a break below 5400 might open up a harder sell-off.
Anticipating the V-Shape:
- When we look at BTCUSD price action, we should note that most of the bullish continuation swings start with a sharp V-shape reversal.
- In the 4H chart, we saw that when price dipped to almost 5100 and shot right back up to 5500.
- Then, when you look at the reversal on Sept. 15, when price dipped to 3000, the reversal was also very sharp.
- Now, this week, price action has been bearish, and there appeared to be a bullish reversal attempt at 5400.
- But this time, there was no V-shape follow through.
- Based on this minor detail, I have a feeling BTCUSD's bullish legs are tired after more than doubling up in a little over a month.
- It might need some more consolidation.

Next Fork:
- We should also note that there will be another fork in November where another "improvement" will be made to bitcoin to make it transact faster and in greater volume - features that will improve its adaptability.
- These forks represent early stages of the "best practice" exploration in the development of bitcoin.

Bitcoin expert Jimmy Song has a good article on this next fork on Medium - Segwit2x: What you need to know about the 2x Hard Fork (aka 2MB non-Segwit Transaction Capacity per block/8MB Total Block Size Hard Fork)