China's yuan headed for a weekly gain amid optimism the mainland will attract more fund inflows as the stock-exchange link between Hong Kong and Shanghai goes live next month.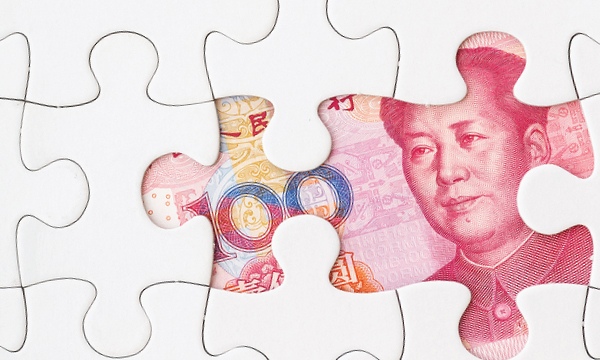 The Chinese currency also rose as a private report signaled manufacturing grew faster this month, tempering concern the economy is slowing. The yuan and South Korea's won are the only gainers this week among emerging Asian currencies as the Shanghai Composite index of shares headed for its biggest five-day gain since the period ended Sept. 5.
"The yuan's performance was dictated by expectations of inflows because of the Shanghai-Hong Kong stock connect," said Andy Ji, a strategist in Singapore at Commonwealth Bank of Australia. "There's a continuous effort to internationalize the currency."
The yuan appreciated 0.11 percent this week to 6.1352 per dollar as of 11:15 a.m. in Shanghai, China Foreign Exchange Trade System prices show. The spot rate traded at a 0.3 percent premium to the central bank's daily fixing, within the 2 percent limit.
The People's Bank of China cut the reference rate by 0.09 percent this week to 6.1508 against the dollar. That's still 0.2 percent up from the end of last month. The Bloomberg-JPMorgan Asia Dollar Index (ADXY) fell 0.2 percent since Sept. 19, a fourth weekly decline.
"It's a neutral fixing," said Commonwealth Bank's Ji, referring to this week's weakening of the yuan reference rate. "The market is not taking a view on whether the PBOC intends to engineer weakness in line with the Asian performance."
Exchange Link
Shanghai's exchange link with Hong Kong is set to start next month and allows a net 23.5 billion yuan ($3.8 billion) of daily cross-border purchases. China is counting on the link's success to help liberalize its financial system, increase the role of the yuan and give its citizens more investment channels amid a slumping property market and increased risks from local wealth-management products.
A preliminary reading of the Purchasing Managers' Index from HSBC Holdings Plc and Markit Economics was 50.5 for September, compared with the 50.0 median estimate in a Bloomberg survey and last month's 50.2 final figure, a Sept. 23 report showed. Fifty is the dividing line between expansion and contraction.
In Hong Kong's offshore market, the yuan was steady this week and rose 0.06 percent today to 6.1447 per dollar, according to data compiled by Bloomberg. One-month implied volatility in the onshore yuan, a measure of expected swings used to price options, rose two basis points, or 0.02 percentage point, from a week ago to 1.68 percent.
Twelve-month non-deliverable forwards were little changed this week and today at 6.2411 per dollar in Hong Kong, according to Bloomberg-compiled data. They were 1.7 percent weaker than Shanghai's spot rate.