From my regular interactions with a large number of individual investors, I know there is an interest in income stocks that pay monthly dividends. My tendency has been to be somewhat skeptical of companies that choose the monthly dividend route. I view it as a lazy move by management to maintain investor interest.
As a result, when I review an income stock that pays monthly dividends, I start with somewhat of a preconceived bias against the company. For one of these stocks to make my recommendations list, I need to see a company that meets all of my income stock investment criteria. The core of these qualifications is having business operations that can produce sustainable and growing free cash flow.
Then, I want to see a history of dividend growth. Finally, there should be a current yield that is above similar stocks based on business operations and dividend growth rate. It is an interesting twist in that since I have held monthly dividend stocks to such high standards before I will recommend one, those stocks that have made the cut are now considered by me to be core holdings for any income-focused investor.
Here are three monthly dividend real estate investment trusts (REITs) that will add growing monthly dividends to your stock portfolio.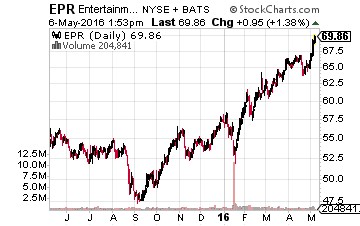 EPR Properties (NYSE:EPR) is a triple net lease REIT that owns properties in three distinct commercial property sectors. Megaplex theaters, entertainment retail centers, and family entertainment centers make up the majority of their leases. Additional recreation properties (the second sector) include metro ski parks, resorts, water parks, and golf entertainment complexes (Top Golf). The third sector consists of build to suit charter and private school facilities.
In January, the company received State of New York approval for a casino on property EPR owns in Sullivan County, New York. The resort is under construction and will include a golf course, water park, and entertainment village. All of EPR's properties are operated by third party companies and the REIT's income is the rental payments made on their long-term, triple-net leases. EPR currently yields 5.6% and has been growing...
More