The title is based on comparison of major currencies against the USD. If we look at EUR/USD, USD/CHF, USD/JPY, AUD/USD, NZD/USD, and simply the USD index, we would see that the USD is dominating. 

The GBP/USD has also been bearish, but it has recently been showing resilience. While other USD-crosses are pushing to new lows or new highs, the GBP/USD is still in the middle of a consolidation range between 1.6052 and 1.6524 as shown in the 4H chart. 

GBP/USD 4H Chart 9/29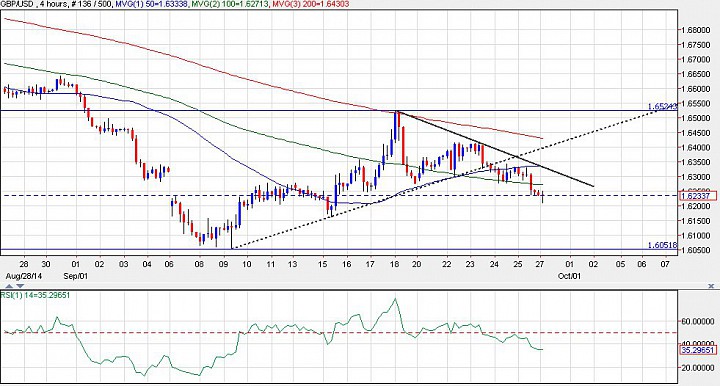 (click to enlarge)
In the 4H chart we also see technical signs of bearish continuation.
1) Price has returned below the 200-, 100-, and 50-period simple moving averages (SMAs).
2) Price has broken below a rising trendline.
3) The RSI has broken below 40 after pushing above 70. This shows loss of the prevailing bullish momentum.

Now, because of the resilience of the sterling, if we see the USD give back strength, we should probably expect GBP/USD to have a better chance to rally. A break above 1.6350 for example would push price back above the 100-period and 50-period SMAs as well as a near-term falling trendline. This should first open up the 1.6524 high.

Otherwise, if price holds below 1.6350 this week, the pressure remains on the 1.6052 low, and the 1.60 handle as the next target in the bearish continuation scenario.