Israelis will elect a new parliament March 17. As Goldman notes, this early election was triggered by tensions within the government:
PM Benjamin Netanyahu has governed Israel for nine years (1996-1999 and 2009-present), making him Israel's second-longest-serving prime minister (only behind David Ben-Gurion; 13 years). In the latest 2013 election, PM Netanyahu's center-right Likud party joined forces with right-wing Yisrael Beiteinu and became the largest party within the Knesset, winning 31 of the 120 seats (20 were members of Likud and 11 of Yisrael Beiteinu). While this represented a meaningful fall from the combined 42 seats the two parties won at the 2009 election, it still allowed PM Netanyahu to form a majority coalition together with Yesh Atid, the Jewish Home and Hatnuah (68 seats in total).

 

This broad collation, however, turned out to be fairly unstable due to disagreements on various topics. For example, the alliance between Likud and Yisrael Beiteinu was dissolved on July 9, 2014, following disagreements over how Israel should respond to the rocket fire from Gaza. And on December 2, 2014, PM Netanyahu fired the Finance Minister (Yair Lapid; leader of Yesh Atid) and the Minister of Justice (Tzipi Livni; leader of Hatnuah) following disagreements over the budget (e.g., the zero-VAR proposal from Lapid) and a 'Jewish state' proposal. On the same day (December 2, 2014), Likud announced it would support a dissolution bill with a vote scheduled for December 8. This was passed with a vote of 93-0 in the third reading. Early elections for the twentieth Knesset will be held on Tuesday, March 17.
As WaPo notes, the main contest pits the right-wing Likud party of Prime Minister Benjamin Netanyahu against a surprisingly strong challenge from the Zionist Union, a center-left political alliance led by Isaac Herzog of the Labor party. Polls place Herzog's bloc ahead of Likud, but that's no guarantee of victory.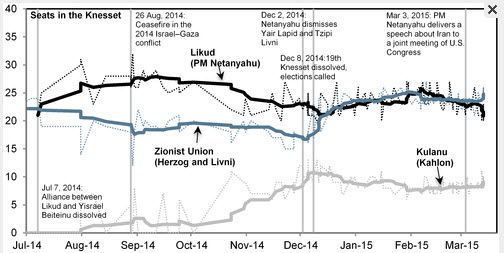 Since Israel's first election in 1949, no single party has ever won an outright majority in the 120-seat Knesset, the name for the Israeli parliament. That means smaller political parties -- and there are 26 in total -- play a significant role in shaping the ruling coalition that forms the Israeli government after the ballots get counted.
There is a high degree of political fragmentation in Israel.

 

This is illustrated by the fact that the two biggest parties (Likud and the Zionist Union) could get far less than half the votes in the election (47 seats according to the latest poll). There is the nationalist right-wing party appealing to Russian speakers (Yisrael Beiteinu), a united list representing the one-fifth of Israeli citizens who are Arabs (Arab Joint List), and a party supporting the squeezed middle class (Yesh Atid). There are also four religious parties (The Jewish Home, Shas, UTJ and Yachad), for Jews of European versus Middle Eastern descent and for varying degrees of nationalism. Then there is Meretz – a secular left-wing social-democratic political party – that emphasises a two-state solution to the Israeli-Palestinian conflict. Finally, there is Kulanu led by Moshe Kahlon that focuses on economic and cost-of-living issues.

 

Mr. Kahlon is a former member of Likud and served as Minister of Communications and Minister of Welfare & Social Services. Notably, during his time as Minister of Communications, he was widely credited with leading the "Cellular Revolution" in Israel, that allowed new competitors to enter the cellular communications market and which lowered prices significantly.

 

One implication of the political fragmentation is that there is a high degree of uncertainty regarding the next coalition (even when the election outcome is known).
Unlike in some other parliamentary democracies, Israelis don't vote for a specific geographic constituency: Rather, they vote for a slate of candidates represented by a party or coalition of parties.
And here is The FT's projected Knesset...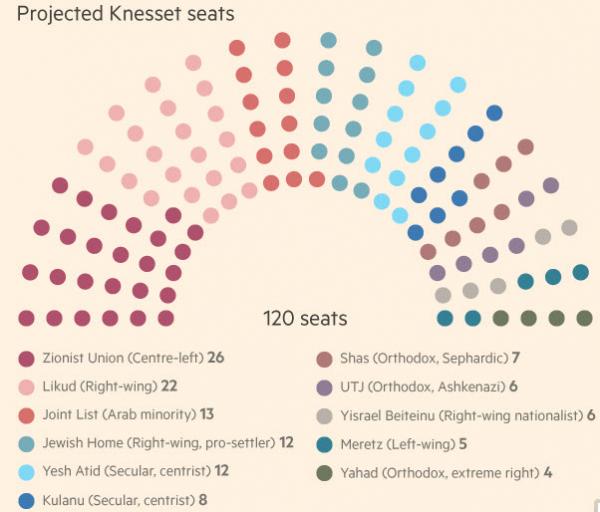 While there are 26 or so smaller parties, as The FT reports, there appears to be three possible scenarios for Israel's next coalition...
1. The "anyone but Bibi" coalition

 

Mr Herzog has urged voters to give his party at least 30 seats — the quarter of the Knesset he says he needs to govern effectively. Little wonder: his party has fewer natural allies in the legislature than Likud.

 

The Zionist Union's easiest partner would be the small, leftwing Meretz. Others include the parties of Mr Lapid and Mr Kahlon; the two Orthodox Jewish parties might be persuaded to join the centre-left. This combination would yield 64 seats, based on the Yedioth poll. Mr Herzog could also turn to rightwing foreign minister Avigdor Lieberman's Yisrael Beiteinu, although it would sit awkwardly with Meretz.

 

It is also unclear whether Meretz and Yisrael Beiteinu, hovering near the 3.25 per cent minimum threshold, will make it into the Knesset at all.

 

Another potential kingmaker for the centre-left is the Joint List, the new unified Arab party projected to come third. Mr Herzog could approach them seeking explicit support or at least tacit backing to block a rightwing government. Ayman Odeh, the party's leader, says he will not join a coalition with any "Zionist" party but has hinted there are conditions in which he would give a centre-left government support.

 

2. Netanyahu returns

 

When observing how closely polls are tracking, Israelis see a parallel with the 2009 vote. This worries leftwingers and gives conservatives hope.

 

In that election, Tzipi Livni, then head of the centrist party and Mr Herzog's running mate in Zionist Union this year, won one more Knesset seat than Likud. However, the then president Shimon Peres concluded Mr Netanyahu was better placed to form a government and handed the task to him. This was the first time in Israeli history that a second-place party went on to lead government.

 

Mr Netanyahu's Likud may be flagging in the polls and internally demoralised, but it still has more natural allies than Mr Herzog can command. They include Naftali Bennett's Jewish Home, the religious parties and Mr Lieberman, Likud's former partner. Mr Netanyahu has also offered the popular Mr Kahlon the finance ministry, although he has not committed to take it.

 

There is a lot of bad blood between Mr Netanyahu and Mr Lapid from the last administration but a joining of the two in government cannot be ruled out. A coalition of this type could get 73 seats.

 

3. A grand coalition

 

Israeli media carried unsourced reports at the weekend that Mr Rivlin could seek to facilitate a unity government as the vote was unlikely to hand clear victory to either side.

 

The reports should be taken sceptically, at least until the election, with both Mr Netanyahu and Mr Herzog saying they do not want a unity government.

 

Israeli Labour Party leader and co-leader of the Zionist Union list for the upcoming general election, Isaac Herzog gives a speech during a debate on economy on March 11, 2015 in the costal Israeli city of Tel Aviv. Six days before Israel votes in a snap general election, the centre-left Zionist Union opened a lead of several points over the ruling rightwing Likud party, a poll showed.

 

However, it is also worth remembering that Mr Herzog has said he does not want to be "blackmailed" by smaller parties. He is a pragmatist who has served as minister under rightwing prime ministers — including Mr Netanyahu — before.

 

The Israeli right and left pulled together in a unity government in 1967 when the country faced a major security crisis around the Six Day War. In 1984, leftist Mr Peres and rightist Yitzhak Shamir joined forces in response to an economic crisis, rotating the premiership after two years.

 

Mr Herzog, whom Mr Netanyahu belittles by using his nickname "Buji", has promised to rotate the premiership to his running mate Ms Livni after two years. On the campaign trail, he has brushed off speculation about a unity government, saying he wants a solid centre-left bench.

 

Still, instead of "Tzipi and Buji", Israel could well get "Buji and Bibi". "It always makes sense for big parties to go together," says Yehuda Benmeir, senior fellow with the Institute for National Security Studies in Tel Aviv. "This limits the ability of small parties to blackmail them and get advantage beyond their numbers."
*  *  *
In Goldman's view, Moshe Kahlon may hold the decisive vote (especially for the markets)
This discussion has highlighted that Moshe Kahlon – leader of the newly founded Kulanu party – may become the decisive factor in the next government. Based on the most recent poll, both a left-wing and a right-wing government would likely need his support to form a coalition.

 

Mr. Kahlon has stated previously that he wishes to become the new Finance Minister, and given his unique position, it seems plausible that both sides may offer him this position.

 

Mr. Kahlon has stated a desire to improve competitiveness in the banking sector, and thereby reduce fees and other financial service-related costs. This could be similar to what he did to the telecom sector when he was Minister of Communications. If so, it could mean a potential reduction in consumer price inflation in the medium term. As this type of deflationary pressure derives from structural factors that are unrelated to domestic demand, it is not clear that the BoI will respond to this scenario. Still, given the currently very low headline inflation and depressed inflation expectations, it may be challenging to ignore these pressures for the central bank as it potentially risks de-anchoring inflation expectations.
*  *  *
Finally, if all that is too complicated, here is one "guide" from The Times of Israel's Benji Lovitt ( @Benjilovitt )