As per the Zacks Industry classification, the telecommunications industry is grouped under Computer and Technology, which is one of the broader 16 Zacks sectors.
The telecommunications industry is currently balanced with equal proportions of positive and negative influences. Republican Donald Trump's presidential victory catapulted the stock price of most major telecom stocks, which enjoyed a bullish run in the share market till the end of the first quarter of 2017.
However, we are witnessing a different scenario in the ongoing second-quarter 2017, wherein the stock price of many telecom stocks has been bearish. We await the performance of these stocks in their respective earnings releases on the back of depressing price performances.
The upcoming weeks will see some of the major telecommunication companies such as Verizon Communications Inc. VZ, Sprint Corp. S releasing their respective earnings. While Verizon will report its second-quarter 2017 earnings on Jul 27, before the market opens, Sprint is slated to report its first-quarter 2017 earnings on Aug 1.
On Jul 20, T-Mobile US Inc. TMUS reported impressive second-quarter, wherein both the top and bottom line outpaced the Zacks Consensus Estimate. The company also raised its financial outlook for 2017.
An Overview of Q2 Earnings So Far
We are in the thick of second-quarter earnings season with results from 97 S&P 500 members, accounting for 28.1% of the index's total market capitalization (based on our latest Earnings Preview article). Total earnings for these companies are up 8.4% from the year-ago period on 5.1% higher revenues, with 78.4% beating EPS estimates and 72.2% beating revenue estimates.
More than 800 companies will report results this week, including 183 S&P 500 members. We can state that the second-quarter earnings season is off to a good start.
Q2 Expectations (as a whole & sector specific)
For second-quarter, we anticipate the prospects of companies to improve steadily. In fact, our latest scorecard projects that total second-quarter earnings are expected to be up 8.6% from the year-ago period on 4.7% higher revenues. This would follow 13.3% earnings growth in first-quarter 2017 on 7.0% revenues growth, recording the highest increase in almost two years.
We predict that second-quarter earnings of the Computer and Technology space to be up 14.8% on 6.1% higher revenues in the year-ago period.
Telecom Stocks' to Release Q2 Earnings on Jul 25
Our quantitative model offers some insight into stocks that are about to report their earnings. Per the model, a stock needs to have the right combination of the two key ingredients, a positive Earnings ESP and a Zacks Rank #3 (Hold) or better, to deliver earnings beat. You can uncover the best stocks to buy or sell before they're reported with our Earnings ESP Filter.
Meanwhile, we also caution against stocks with a Zacks Rank #4 or 5 (Strong Sell) going into the earnings announcement, especially when the company is seeing negative estimate revisions.
Investors interested in the telecommunication stocks can watch out for the two companies that are scheduled to report their second-quarter numbers on Jul 25, after the market closes.
Headquartered in Texas, AT&T Inc. T is a provider of communication, entertainment and internet services to consumers and businesses around the world. In the U.S., the company is the largest pay-TV provider and owns the second-largest wireless network.
In the last four quarters, AT&T's bottom line was on par with the Zacks Consensus Estimate, with an average surprise of 0.00%.
AT&T has an Earnings ESP of -1.35% because the Most Accurate estimate stands at 73 cents while the Zacks Consensus Estimate is pegged at 74 cents. Moreover, the company currently has a Zacks Rank #4 (Sell).
AT&T Inc. Price and EPS Surprise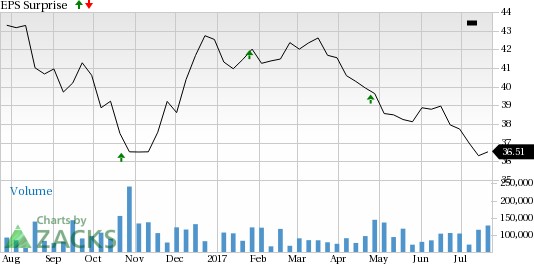 Hence, a negative Earnings ESP along with a Zacks Rank #4, makes surprise prediction difficult (read more: Will AT&T Disappoint Investors this Earnings Season?).
Headquartered in California, Juniper Networks Inc. JNPR is a provider of internet infrastructure solutions that enable internet service providers and other telecommunications service providers to meet the demands resulting from the rapid growth of the industry. Notably, the company has a mixed record of earnings surprises in the trailing four quarters, with an average positive surprise of 7.43%.
The company has a Zacks Rank #3, which increases the predictive power of ESP.You can see https://www.zacks.com/stocks/buy-list/?ADID=zp_1link&ICI... _1link">the complete list of today's Zacks #1 Rank (Strong Buy) stocks here.
However, the company's 0.00% ESP (both the Most Accurate estimate and the Zacks Consensus Estimate are pegged at 42 cents) makes surprise prediction difficult (read more: Is a Surprise in Store for Juniper in Q2 Earnings?).
Juniper Networks, Inc. Price and EPS Surprise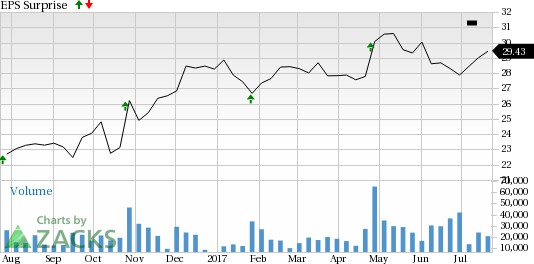 Juniper Networks, Inc. Price and EPS Surprise | Juniper Networks, Inc. Quote
More Stock News: This Is Bigger than the iPhone!
It could become the mother of all technological revolutions. Apple sold a mere 1 billion iPhones in 10 years but a new breakthrough is expected to generate more than 27 billion devices in just 3 years, creating a $1.7 trillion market.
Zacks has just released a Special Report that spotlights this fast-emerging phenomenon and 6 tickers for taking advantage of it. If you don't buy now, you may kick yourself in 2020. Click here for the 6 trades >>
Want the latest recommendations from Zacks Investment Research? Today, you can download 7 Best Stocks for the Next 30 Days.
Click to get this free report
Juniper Networks, Inc. (JNPR): Free Stock Analysis Report
AT&T Inc. (T): Free Stock Analysis Report
Sprint Corporation (S): Free Stock Analysis Report
Verizon Communications Inc. (VZ): Free Stock Analysis Report
T-Mobile US, Inc. (TMUS): Free Stock Analysis Report
To read this article on Zacks.com click here.
Zacks Investment Research