Goldman is applying the number-crunching techniques of baseball general manager Billy Beane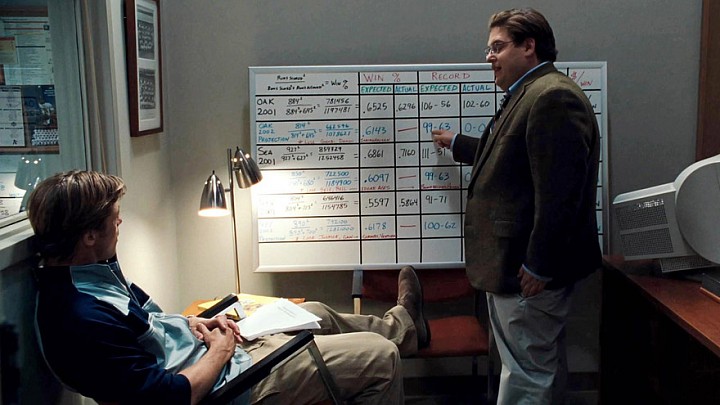 Everett Collection
Goldman Sachs, inspired by "Moneyball," comes up with Sabermetrics for stocks.

Goldman Sachs is stealing a page out of Billy Beane's "Moneyball" playbook. But instead of scouring the world for All-Star baseball players in the making, the investment bank is focusing on finding stocks with hidden potential, in a recent research note.
The prominent investment bank is applying the number-crunching techniques (known as Sabermetrics) used by famed baseball general manager Beane, the subject of Michael Lewis's bestselling book "Moneyball," later made into a popular movie.
Goldman's attempt to draw parallels between the baseball world and stock picking is only fitting as the World Series begins tomorrow. Plus, stock pickers may feel as if they've been beaten down by a Louisville Slugger over the past week of tumultuous trading.
Goldman's research team goes as far as putting together a sort of fantasy baseball roster comprised of stocks. Here's how it works:
Goldman Sachs puts together three starting lineups of nine of their buy-rated stocks based on each of these metrics. One stock makes the cut on all three, Apple Inc. AAPL, +2.14% and three stocks make the cut on two of the lists: International Paper Co. IP, +3.71% Macy's Inc. M, +1.53% , and Computer Sciences Corp. CSC, +0.35%
Defense efficiency ratio: Free cash flow conversion
The defense efficiency ratio, or DER, is a metric baseball statisticians use to calculate how often a team gets an out whenever the opposing team hits a ball into play, excluding home runs. The analogy in stock picking, according to Goldman Sachs, is free cash flow conversion, or how often a company can convert account-based earnings into cash, which can then be returned to shareholders through dividends or buybacks, or used for capital investment or M&A.
Companies that fit the bill are KAR Auction Services Inc. KAR, +0.85% EMC Corp.EMC, -0.59% Wyndham Worldwide Corp . WYN, +1.00% L-3 Communications Holdings Inc. LLL, -0.98% Oracle Corp. ORCL, -0.18% International Paper, Macy's, Amgen Inc. AMGN, +2.86% , and Apple.