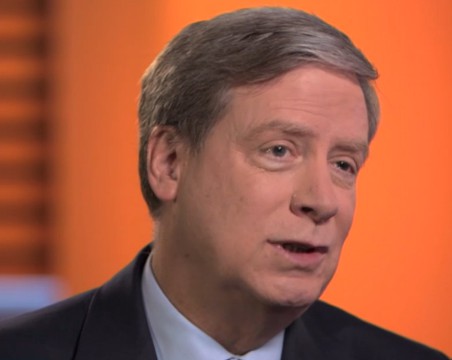 Submitted by Octafinance.com
The economy appears to be full of surprises, according to billionaire investor Stanley Druckenmiller. He has one of the best long-term track records in money management and he's planning for the unexpected.
No Rate Cut
Most investors predict the Federal Reserve to raise interest rates in September, after keeping them near zero for six years. But Druckenmiller rejects that forecast.
"I have no confidence whatsoever that we'll see a rate hike in September or December," says Druckenmiller, who is worth $4.4 billion according to the Bloomberg Billionaires Index.
And there are other surprises. He expects oil prices will rise and the Chinese will be smiling with an improving economy. Chinese leaders are forecasting growth this year of 7 percent. That's the lowest in 7 years, but the Shanghai Composite Index has doubled in the last 12 months as Chinese stocks have soared.
"Whenever I see a stock market explode, six to 12 months later you are in a full blown recovery," he said.
China is the world's second-biggest economy and a recovery would have an impact around the globe, Druckenmiller said. Perhaps the most important result will be rising oil prices. It would also be a boost to European exporters and would influence securities and commodities prices around the globe. For instance, it would send German government bond prices lower, boost European exporters and lift the price of oil, he said in a separate interview.
Oil Prices 
Oil companies have slowed production and exploration after prices fell 50 percent since June. Those efforts will pay off next year with rising oil prices. It's time to invest in equities that will follow the climb in energy prices. For example, Duquesne Family Office sold its retail and airline stocks, which benefit from lower oil prices. It has bought equities that benefit as energy prices climb, such as LyondellBasell Industries NV. It's the world's biggest maker of polypropylene plastic rose as much as 3.1 percent today to $96.18, the highest price since October. Druckenmiller is also buying crude futures. But there are also more conventional bets as U.S. and Japanese stocks climb as the global economy improves.
Troubles in Europe will ease
He expects Greece will "probably" exit the euro zone. "I prefer to see Greece stay in the euro zone, for a lot of economic market reasons and humanitarian reasons, but as a market participant I think it's way overanalyzed."
But don't expect contagion, given that banks don't own Greek debt anymore and Mario Draghi, the European Central Bank President, has quantitative easing at his disposal.
EURUSD could reach 0.8  in 1-2 years
Stanley Druckenmiller expects the U.S. dollar to continue to strengthening against the euro and it may eventually trade at 80 cents compared with about $1.06 today.
"Well, the global money printing is interesting because the United States is the world's central bank. And Japan had this guy named Shirakawa running the central bank, and he didn't believe in this stuff. So, what happened when he didn't print the money but the U.S. was printing the money and we're [inaud.], the Japanese yen started to appreciate and it stayed appreciating, and it basically hollowed out the country. And they were eventually forced, as you know, two years ago into flooding their system with money.
You have a very, very similar situation going on in Europe now. I know Mario Draghi and Angela Merkel don't like QE. They don't like anything about it, but again, the chump – I have this partner. I don't know if he's in the room, Kevin Warsh who was on the Federal Reserve Board. He said Japan used to be the new chump because they had the overvalued currency. 
Now it's Europe. So, their currency went from 82 say back in 2000 all the way up to 160, and it was 140 last summer, and they're absolutely getting murdered. And now they're apparently caving in and they're going to print money.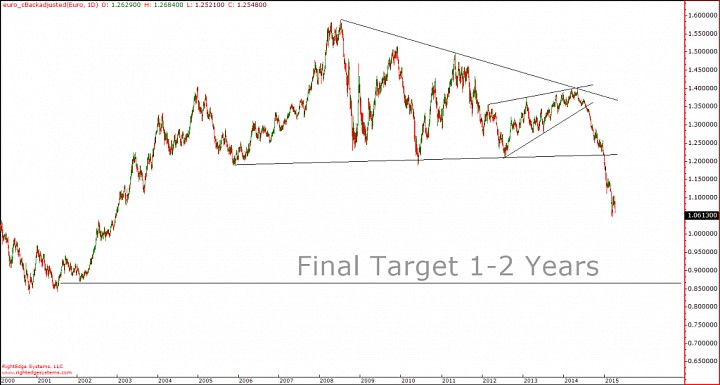 Source: Rightedgesystems + Octafinance Interpretations