Image via: autoevolution.com
Picture this: it's 3 o'clock in the morning, and all you want to do is leave theovercrowded bar, eat some pizza, and go to bed. Or you bought way too much stuff at Target—because of course you had to look through the clearance aisles—and there is no way you're getting all those bags home on the bus without tripping or falling. Or you just had a long, stressful day at work, and the thought of squishing yourself in with thousands of other commuters on the train makes you want to die a slow and painful death.
So what do you do?
You pick up your phone, open the Uber app, and request a car. Like a fairytale, your transportation woes vanish with the digital sight of a car heading your way.

Launched back in 2010, Uber is an app-based transportation company headquartered in San Francisco, California. Today, it operates in roughly 270 cities and more than 60 countries worldwide. The company uses a smartphone app to receive ride requests, and then sends out these requests to their drivers who transport the customers to their final destinations.

Uber Controversy
While Uber has seen great success, it has run into some roadblocks as of late. Uber has been in and out of the news thanks to legal and publicity issues in a variety of countries for a number of issues. In January, the company faced trouble in New York City for noncompliance thanks to a failure to adhere to requests from the city's Taxi & Limousine Commission. 5 out of 6 Uber bases have been unwilling to provide any electronic trip data, legal documents allege.

Because of increased regulatory concerns and lack of driver background checks, Uber has been banned in The Netherlands and in parts of Thailand, India, and China. Scrutiny has increased in Vietnam, Singapore, and Indonesia due to these same issues. Despite some U.S. states—Nevada, Oregon, Alabama, and Florida come to mind—initially suspending Uber services due to regulatory concerns, many have gone ahead and let the company resume its operations. Alaska, however, has completely ceased the company's operations for now until Uber will fully comply with its state laws.

As the saying goes, any publicity is good publicity, and this recent bad press has yet to negatively affect Uber. In fact, Uber is already rumored to generate roughly $2 billion in net revenue at the end of this year, not bad for a company that is less than a decade old.
Increased Competition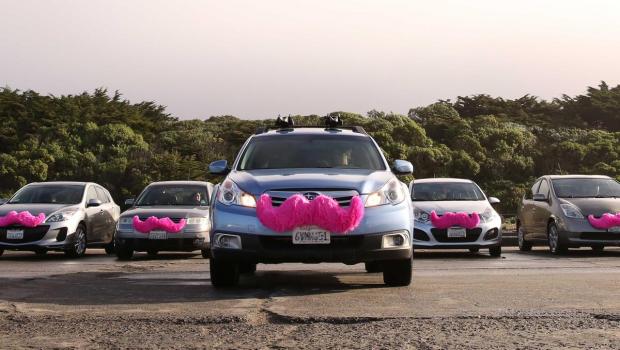 Mustache-adorned Lyft vehicles. Image via: bizjournals.com
The emergence of on-demand rides has become a popular business venture all over the world, but it has proved difficult for companies to break away from the congested pack. At the end of last year, Sidecar, another on-demand car service, announced that it will officially stop offering rides and deliveries on December 31st.
In addition to the now-defunct Sidecar, companies like Lyft, Curb, China's Didi Kuadi, Southeast Asia-based Grab, and India's Ola have all stated to eat into the ride-hailing market share and become big competitors for Uber.
Even Alphabet Inc GOOGL has plans to make its self-driving cars unit a stand-alone business. This initiative could put Google in direct competition with Uber, as the lack of a driver could keep costs down in the long-term. If Google can offer lower prices to customers, Uber may struggle to compete. However, as the technology for self-driving cars becomes more commercially available, it would not be out of the realm of possibility that Uber could develop new business strategies focused on autonomous driving.
Uber IPO
Despite these recent controversies, investors are eagerly awaiting an Uber IPO. Many believed that the company would go public at some point this year, but Uber has stayed silent on the subject.
An upcoming IPO for Uber would be massive, as the company is currently valued at an amazing $51 billion after a total of seven rounds of funding worth $7.4 billion since its launch. And thanks to Uber's structure—a unique combination of transportation company, mobile Internet company, and real world engineering—the company has been touted as one of the best future IPO candidates.
Check out this graph detailing all of Uber's investors:
2016 IPO Field
Uber joins a varied list of companies with potential high profile tech IPOs in 2016. Airbnb, a room rental service, is worth an estimated $25.5 billion. Snapchat, the popular photo and video sharing app, is also seen as a hot IPO prospect. The reported value of the company is an estimated $16 billion. Spotify and Pinterest, the former a worldwide leader in digital music and the latter a site used to create digital pin boards, are both finding themselves as hot topics in future IPO discussions.
Check out this just released Zacks report for a more in-depth look at these potential tech IPOs.

This barely scratches the potential IPO offering for the year though, suggesting that we could see a very busy year for initial public offerings in a number of market sectors.
Continuing the Trend
If even a fraction of these companies go public, it will continue the IPO boom that investors witnessed for the past few years. Last year was the best in more than a decade for IPOs; more than $85.2 billion was raised in offerings, a huge increase over 2013's $54.9 billion total. 2015, though, has seen a considerable decrease in viable IPOs, having raised only $25.9 billion so far.

Among the most notable IPOs of 2015 were sports car maker Ferrari N.V. RACE, payment technology solutions company First Data Corp FDC, wearable fitness-tracking device producer Fitbit Inc FIT, digital payments company Square Inc SQ, energy transportation company Tallgrass Energy TEGP, and Chicago-based chemical company Univar Inc UNVR.

Yet all of these pale in comparison to the IPO of China's biggest online commerce company, Alibaba BABA. Alibaba dominated IPO headlines last year, and even had a huge influence on Yahoo's YHOO stock performance. The e-commerce company raised nearly $22 billion in its offering, making it the largest U.S. IPO of all time. Its stock, meanwhile, has seen immense volatility since its debut last September, even falling below its $68 offering price after a year on the public market.
How Might Uber Perform?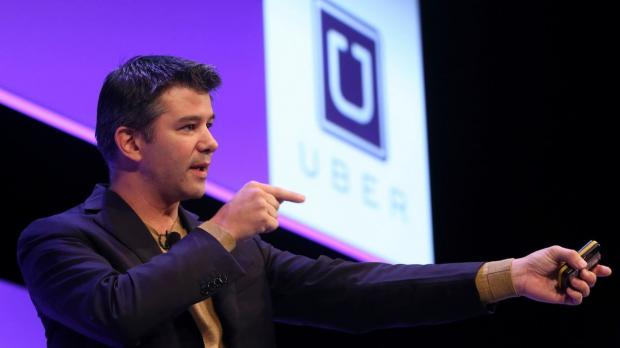 Image via: Forbes
Uber CEO Travis Kalanick is determined to make sure an IPO for his company will "happen as late as possible," said in an interview with CNBC. Kalanick also commented that thanks to his fundraising--he has raised roughly $10 billion for Uber in the last 18 months--he did not currently need public capital markets and wants to hold on to the flexibility offered by private funding.
When the day comes, Uber's IPO could go either way, but let one number stay in your mind: $51 billion. Let me write that again: $51 billion. This number is a hard one to forget, and a figure that will be on the forefront of many investors' minds come the time of its public offering, as it impressively showcases just how far this startup has come in a few short years.

However, it is hard to bet against a company that has seen such massive growth in such a short time frame. And, it seems likely that this will be another IPO that draws in the retail investor who is looking to cash in on a household name going public for the first time.
Want the latest recommendations from Zacks Investment Research? Today, you can download 7 Best Stocks for the Next 30 Days. Click to get this free report >>
Want the latest recommendations from Zacks Investment Research? Today, you can download 7 Best Stocks for the Next 30 Days.
Click to get this free report
YAHOO! INC (YHOO): Free Stock Analysis Report
ALPHABET INC-A (GOOGL): Free Stock Analysis Report
TALLGRASS ENRGY (TEGP): Free Stock Analysis Report
SQUARE INC (SQ): Free Stock Analysis Report
FERRARI NV (RACE): Free Stock Analysis Report
ALIBABA GROUP (BABA): Free Stock Analysis Report
FIRST DATA CORP (FDC): Free Stock Analysis Report
FITBIT INC (FIT): Free Stock Analysis Report
UNIVAR INC (UNVR): Free Stock Analysis Report
To read this article on Zacks.com click here.
Zacks Investment Research