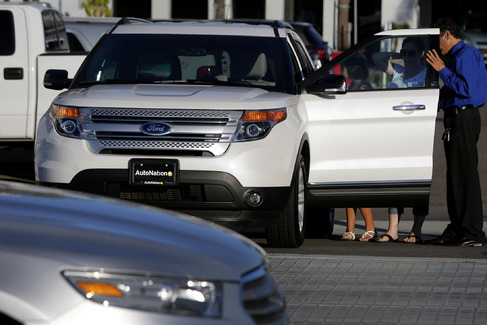 Ford Motor Co., flush with record profits, is dialing up the discounts in an extensive incentive program that will cut prices on almost all its models in a year-end push to drive up sales and market share.
The Friend & Neighbors promotion will offer as much as $2,000 on top of incentives Ford already has and will run from Nov. 3 to Jan. 4, according to a dealer planning guide obtained by Bloomberg. The discounts will apply to all new 2014, 2015 and 2016 Fords, except for some high-end Mustang models, the F-150 Raptor and some commercial-grade vehicles such as the F-550 truck and E-450 van, the guide said.
Ford is extending deeper discounts to claw back market share lost during the prolonged factory changeover to produce the aluminum-bodied F-150 pickup, its top-selling model. The second-largest U.S. automaker controlled 15.1 percent of its home market this year through September, even with a year earlier and down from 16 percent in 2013. Ford said yesterday that profit would decline in the fourth quarter in part because it would spend more heavily on advertising and promotion in the year's final months.
"After the share loss from the transition of the F-150, they appear to be trying to shore up their...
More