In the recent past, TransDigm Group Incorporated TDG has managed to impress investors as it beat earnings in each of the trailing four quarters. The company expects to continue its earnings momentum on the back of complementary acquisitions and steadily growing end markets. TransDigm raised its earnings guidance for fiscal 2017 in its last quarterly report, reflecting these growth drivers.
The company comes under the Zacks categorized Aerospace - Defense Equipment industry, which belongs to the Top 23% of all industries, as per the Zacks Industry Rank. This indicates that broader industry factors should impact the company's operations favorably in the quarters to come. In fact, over the past three months, TransDigm gained 17.5%, outperforming the Aerospace - Defense Equipment industry's average gain of 11.7%.
We believe that the company has several growth drivers in place and also enjoys a robust foothold in an expanding market, which should help maintain its growth momentum. Read on to find out the key factors which make this Zacks Rank #2 (Buy) company an attractive proposition for investors right now.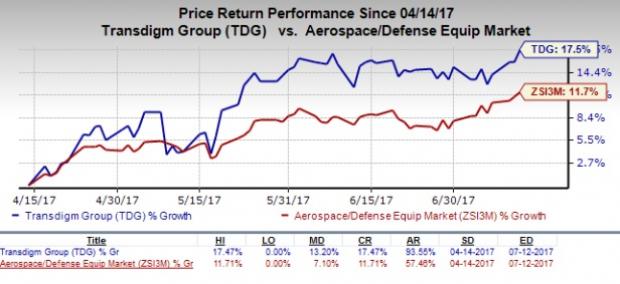 Straightforward Strategy
TransDigm is one of those companies which regularly make sure that the day-to-day operations are aligned with its long-term strategy. And its long-term strategy is simple. It operates proprietary businesses with significant aftermarket content, while focusing on three value drivers: profitable new business, value-based pricing and productivity.
TransDigm's acquisition strategy also reflects the same — it seeks out proprietary aerospace businesses with significant aftermarket content.
Growth Drivers
The most significant driver of future growth for TransDigm is likely to be the commercial aftermarket. The market is seeing growth as a majority of aircraft bought during the financial crisis is beginning to age, and requires more frequent and comprehensive servicing. TransDigm can also leverage opportunities to gain market share within the aftermarket.
Proprietary product sales make up 90% of TransDigm's revenue, while about 75% of revenues are derived from products where TDG is the sole-source provider. 45% of revenue originates from the OE market, while aftermarket constitutes 55% of sales. This translates into consistent revenue generation capacity through all phases of the aerospace cycle.
In the aftermarket, TransDigm enjoys substantial pricing power and is protected by several barriers to entry. The aftermarket also boasts higher margins — it comprises only 55% of sales, but makes up over 75% of EBITDA. TransDigm's aftermarket business is presently witnessing impressive growth, with the uptrend likely to continue, going forward too.
TransDigm also supplements its organic growth with acquisitions. The company's acquisition integration process focuses on increasing prices, diminishing costs, and winning new business. The combination of these three strategies boosts the acquired firm's top-line growth, and drives faster EBITDA growth due to higher prices and lower costs.
Bolt-on Acquisitions
Just last month, TransDigm acquired three add-on aerospace product lines, for roughly $100 million.These product lines mainly comprise proprietary, sole-source products with significant aftermarket content.These acquisitions will add to TransDigm's product range, with their proprietary products which enjoy strong positions on high-use platforms, robust aftermarket content and an excellent reputation.
TransDigm recently completed the acquisition of SCHROTH Safety Products GmbH, and aviation & defense assets and liabilities of Takata Corporation.
During 2016, TransDigm acquired numerous businesses, including DDC, Breeze-Eastern and Young & Franklin/Tactair. In the recently reported quarter, TransDigm posted an impressive 9.6% year-over-year increase in top line, as its accretive acquisitions contributed $70 million to sales. These businesses, which TransDigm acquired over the past year, include DDC, Young & Franklin/Tactair and Schroth. Such acquisitions serve to strengthen the company's foothold in its core markets and bode well for its long-term growth.
Limited Competition
The company is protected by several aftermarket barriers to entry. It is extremely difficult to displace a supplier, after a company becomes part of a program. Also, switching suppliers on a live program is a very drawn-out, messy, and potentially expensive process. Further, there are substantial barriers to entry for aerospace suppliers and involve high switching costs. Incessant requirements of certification and FAA approvals at every step are also cumbersome, and prove as a hindrance to switching.
TransDigm actually sells a wide variety of products, through dozens of small aerospace components businesses that operate within small monopolistic or oligopolistic markets. This way, TransDigm avoids competition with larger, high-capital players. In addition, TransDigm usually owns the IP rights in these markets and the structure deters other players from entering the market because they wouldn't be able to enjoy the margins TransDigm enjoys as the sole player, and the markets are usually too small to justify the capital outlay involved. Switching barriers also dissuades new players.
Pricing Power
Lack of competition translates to favorable pricing dynamics, which is intensified as the company caters to a fragmented base of airlines, which often have no other supplier. However, in the original equipment ("OE") market, margins are lower and the pricing power is average. But even then, the OE market drives the aftermarket growth with every airplane lending a high-margin recurring revenue stream for 25–30 years.
Transdigm Group Incorporated Price and Consensus
Other Stocks to Consider
Some other stocks worth considering in the industry include KLX Inc. KLXI, sporting a Zacks Rank #1 (Strong Buy), and Rockwell Collins, Inc. COL and Hexcel Corporation HXL, both carrying a Zacks Rank #2. You can see the complete list of today's Zacks #1 Rank stocks here.
KLX Inc. surpassed earnings estimates in two of the trailing four quarters, resulting in an average surprise of 18.8%.
Heico Corporation has managed to beat estimates thrice in the trailing four quarters, for a positive earnings surprise of 5.8%.
Hexcel Corporation has a positive average earnings surprise of 3.6% for the trailing four quarters, beating estimates thrice.
More Stock News: This Is Bigger than the iPhone!
It could become the mother of all technological revolutions. Apple sold a mere 1 billion iPhones in 10 years but a new breakthrough is expected to generate more than 27 billion devices in just 3 years, creating a $1.7 trillion market.
Zacks has just released a Special Report that spotlights this fast-emerging phenomenon and 6 tickers for taking advantage of it. If you don't buy now, you may kick yourself in 2020. Click here for the 6 trades >>
Want the latest recommendations from Zacks Investment Research? Today, you can download 7 Best Stocks for the Next 30 Days.
Click to get this free report
Rockwell Collins, Inc. (COL): Free Stock Analysis Report
Transdigm Group Incorporated (TDG): Free Stock Analysis Report
Hexcel Corporation (HXL): Free Stock Analysis Report
KLX Inc. (KLXI): Free Stock Analysis Report
To read this article on Zacks.com click here.