Hot on the heels of the previously discussed surge in Indirect, aka mostly foreign central bank and other official, demand for 3 and 10 Year Treasurys discussed in the past 2 days, the week's issuance was set to end with today's $13 billion in 30 Years bonds. And, as expected, Indirects could barely contain their excitement, taking down just shy of half, or 49.4%, in line with the recent prints of 48.9% and 49.8% in Janury and December, if a little shy of the record high of 53.2% hit in July, after the auction priced 0.4 bps just wide of the When Issued, at 2.56%, a fraction wider than January's 2.43% even if today's session had seen some aggressive buying into the 1pm hour.
The Indirect surge was offset by a slightly weaker Dealer bid, taking down 35.1%, below last month's 37.4%, if in line with the TTM average of 36.9%. This left just 15.5% for Directs.
Finally, while overall the auction was solid, the one place it could have done better was the Bid to Cover which, at 2.26, was below not only the TTM average of 2.46%, but also the lowest since the 2.09 in May of 2014.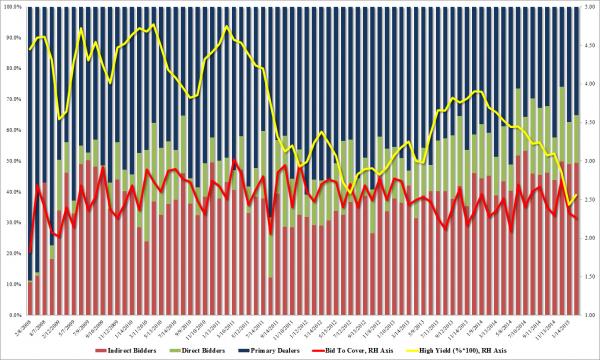 Of course, for the S&P the only thing that matters is how quickly this paper can be repoed back to the Fed, so the proceeds can be used to buy AAPL stock either directly, or indirectly, through the next AAPL bond issuance whose proceeds will be used by management for the same effect.