Observations
Historically, the VIX Index has spiked during the mid-June to mid-October period when an unexpected event occurs. Frequently, the unexpected event has been international, but also occasionally has been domestic (e.g. Presidential election). Until yesterday, changes in the VIX Index this summer have been unusually quiet. That may have changed yesterday when the VIX Index spiked from oversold levels and momentum indicators for a wide variety of equity markets, commodities and economic sensitive sectors rolled over from overbought levels.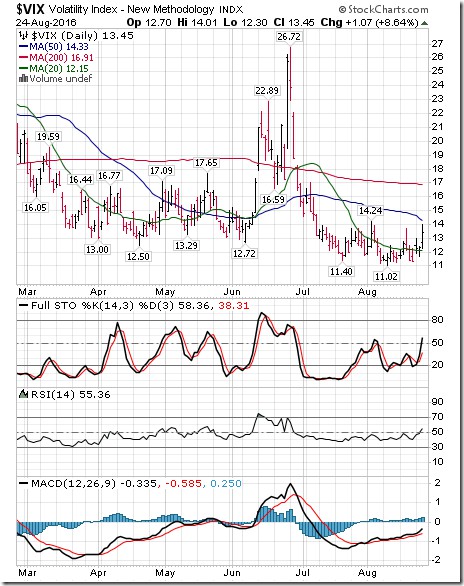 StockTwits Released Yesterday @EquityClock
A volatility squeeze on the S&P 500 Index is resulting in the lowest Bollinger Band width in over 20 years.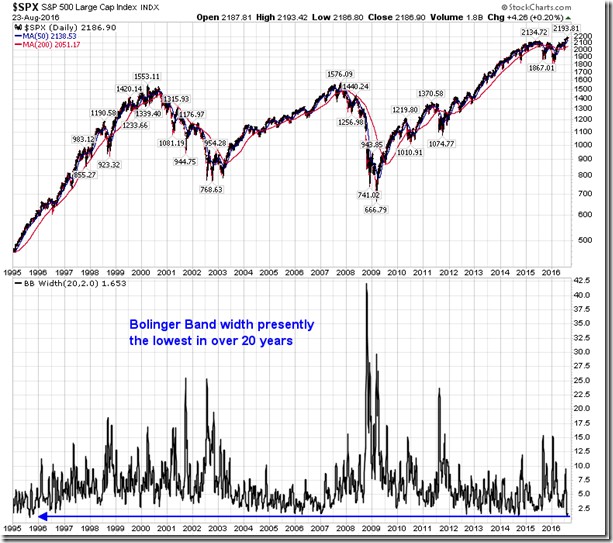 Technical action by S&P 500 stocks to 10:00: Quietly bearish. Breakdowns: $WMT, $INTU. No breakouts.
Editor's Note: After 10:00 AM EDT, more S&P 500 stocks broke support including BCR, AN, MCK and UNH.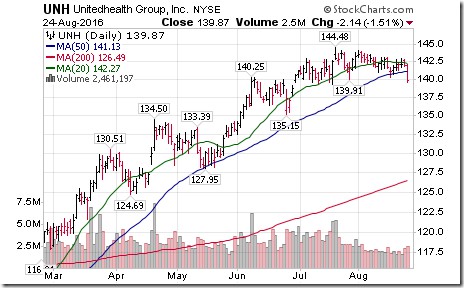 A break by $ABX below support at $19.53 triggered weakness in Gold Equity ETFs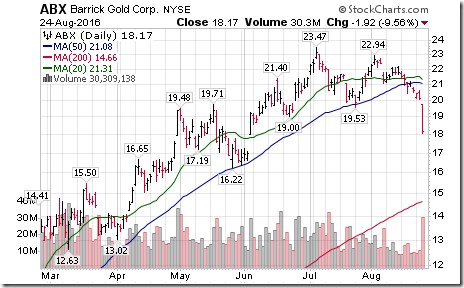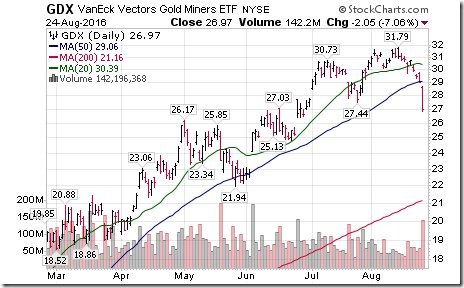 $TD.CA moved above resistance at $57.56 to an all-time high extending an intermediate uptrend.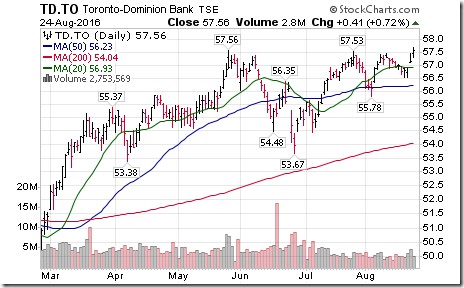 Base metal stocks under pressure. $HBM.CA moved below $5.86 establishing intermediate downtrend.
Editor's Note: Base metal stocks responded to continuing weakness in copper prices.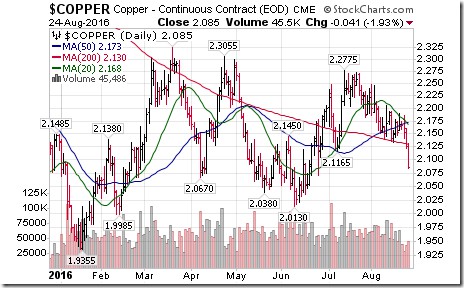 U.S. Metals and Mining ETF was notably weaker.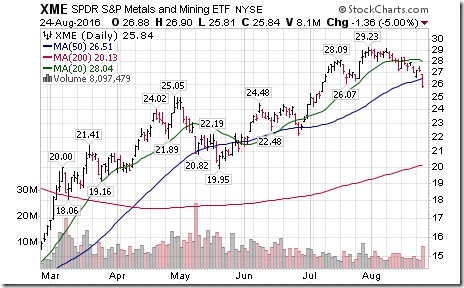 Among precious metal stocks, silver stocks are notably under pressure e.g. $HL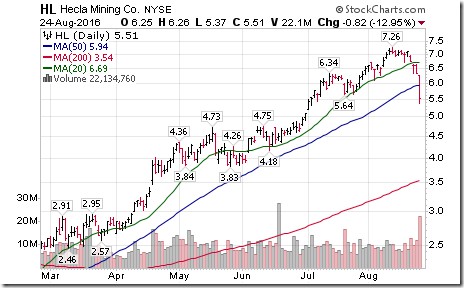 The S&P 500 Index, Dow Jones Industrial Average and TSX Composite Index fell below their 20 day MA (again) $SPX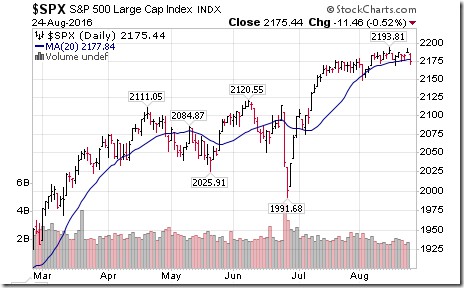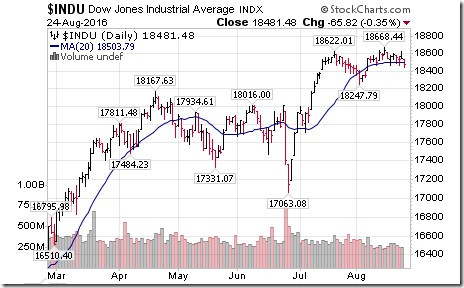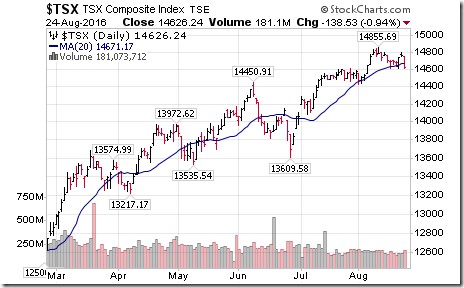 Trader's Corner
A decline in technical scores was significant yesterday when markets dropped below their 20 day moving average and short term momentum indicators rolled over from overbought levels.
Daily Seasonal/Technical Equity Trends for August 24th 2016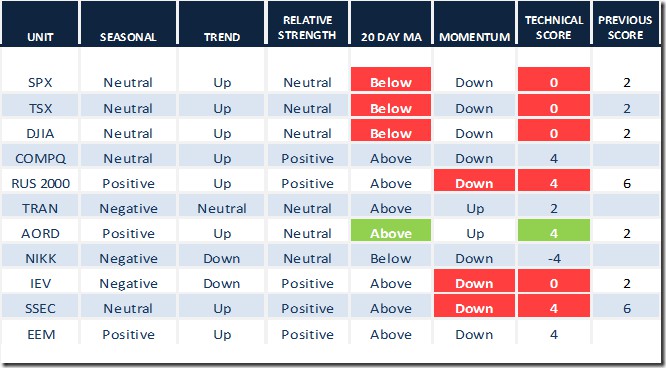 Green: Increase from previous day
Red: Decrease from previous day
Daily Seasonal/Technical Commodities Trends for August 24th 2016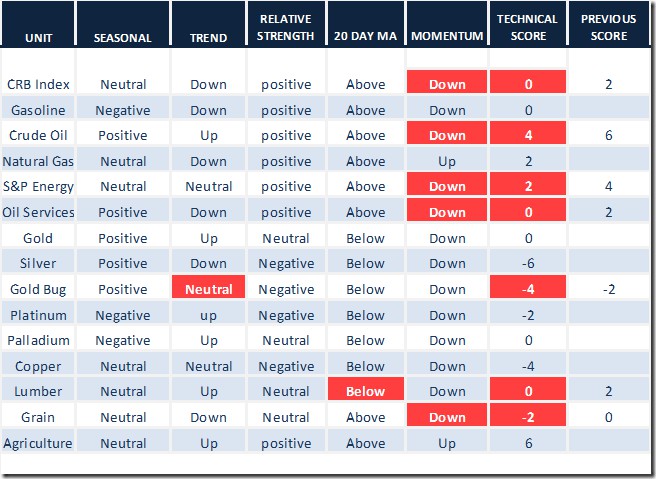 Green: Increase from previous day
Red: Decrease from previous day
Daily Seasonal/Technical Sector Trends for August 24th 2016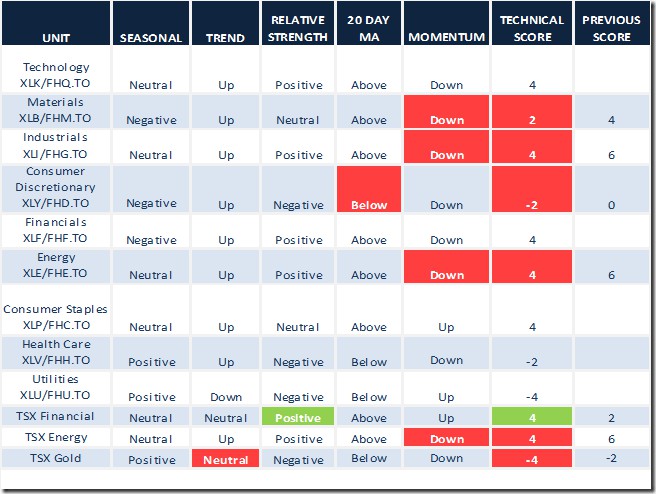 Green: Increase from previous day
Red: Decrease from previous day
Adrienne Toghraie's "Trader's Coach" Column

Breakthroughs for Traders
By Adrienne Toghraie, Trader's Success Coach
There are several reasons that traders do not seek to improve their psychology. One of those reasons is that they do not believe that they can change. In the 22 plus years that I have been working with traders, there are many who have made breakthroughs and changed what was holding them back and sabotaging their trading results.
So what specifically are some of the abilities that traders acquire when they have major breakthroughs as they relate to trading?
The ability to:
· Prepare for a day of trading in the right state of mind
· Get into a trade when their criteria for entering is met
· Avoid bad habits such as raising their stop, adding to their position when their strategy does not allow for it
· Money manage their trade
· Self-correct and learn the lessons of the day
· Live a balanced and healthy life
Here are some of the ways that breakthroughs occur for traders?
· Change beliefs, attitudes and values that are not in alignment with making money
· Resolve conflicts
· Transform the interpretation of negative stories on a subconscious level
· Change conditioned responses that do not allow for following rules
· Unblock emotional repression
· Build self-esteem
Riddled with sabotage
Jerry had a difficult life. He would be the first to admit that he could never have succeeded in trading if he had not had psychological coaching.
Jerry knew many foster homes when he was going through his teen years. He never knew that his mother and his father drank themselves into an early grave when he was only 11 years old. He was unattractive both personality wise and physically. Jerry did have one talent that was his saving grace and that was baseball and an exceptional coach. Sports led to a scholarship to college, a degree in business and a family.
When I met Jerry, he told me that he believed he had a winning strategy, but something was keeping him from following it. So many issues came out when Jerry took my Trader's Evaluation that I was not sure that I wanted to work with him. Jerry somewhere along the way learned to be a good salesman and sold me on working with him privately.
On the surface he was gracious and had a happy demeanor. However, when we dug up his past, a deep troubled boy was released. Jerry had almost every issue that could sabotage trading: from abandonment, physical and psychological abuse, to repressed emotional issues, he had them all. Jerry thought the man that he was had overcome the boy with all the problems.
I am happy to report that after we worked together in private coaching, Jerry is now a well-balanced and successful trader.
Conclusion
There are psychological reasons why a trader is not consistent in following rules. In my experience once bad habits become rooted in a trader's neurology, the problem will get worse. A trader needs to address self-sabotage if he wants to be the best trader that he can be.
Free Newsletter
More Articles by Adrienne Toghraie, Trader's Success Coach
Sign Up at – www.TradingOnTarget.com
Special Free Services available through www.equityclock.com
Equityclock.com is offering free access to a data base showing seasonal studies on individual stocks and sectors. The data base holds seasonality studies on over 1000 big and moderate cap securities and indices. To login, simply go to http://www.equityclock.com/charts/ Following is an example: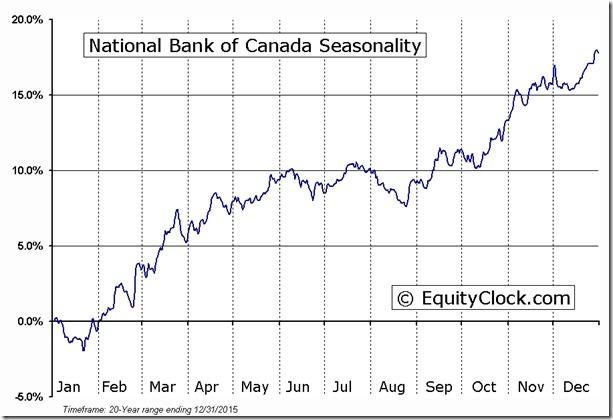 S&P 500 Momentum Barometer
The Barometer dropped 4.20 to 66.00. It remains intermediate overbought and is resuming a short term downtrend.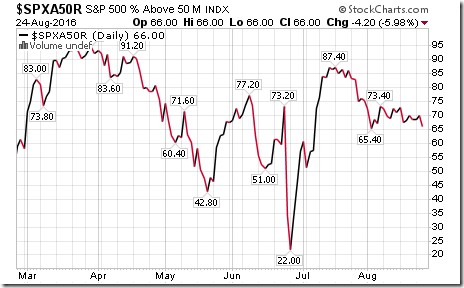 TSX Composite Momentum Barometer
The Barometer plunged 6.54 to 64.10. It remains intermediate overbought and extended a short term downtrend.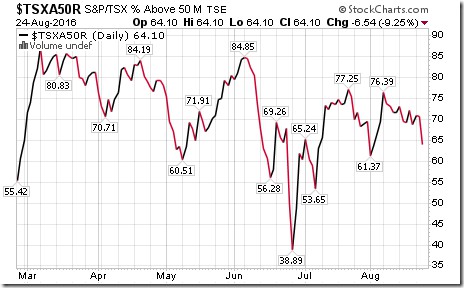 Disclaimer: Seasonality and technical ratings offered in this report by www.timingthemarket.ca and www.equityclock.com are for information only. They should not be considered as advice to purchase or to sell mentioned securities. Data offered in this report is believed to be accurate, but is not guaranteed