By Carly Forster
Semiconductor company Micron Technology, Inc. (NASDAQ:MU) recently held its annual analyst day in which the company provided updates on the future of its business.
Micron has not had the best year so far, having fallen over 50% year-to-date. As such, investors have been questioning Micron due to concerns over DRAM supply and the impact this has had on its share price.
Micron CEO Mark Durcan acknowledged that the slowdown of PC shipments shook the company, stating, "It really caught a number of us by surprise, but it's not a cataclysmic cycle." With that said, Micron is forecasting 25% growth for its DRAM business in 2015 and 24% in 2016.
Micron also sees continued growth within the mobile and enterprise markets driven by diversification of demand. Durcan noted, "It's created a situation where memory makers have a lot more opportunity to differentiate themselves and their offerings."
The company believes its recent investments in manufacturing will be another growth driver that will start paying off in 2016. Durcan commented, "We feel pretty good about continuing to invest through these cycles… We believe there is continued growth ahead." Micron plans to primarily focus its growth efforts on improving its NAND capabilities as the company believes this is more volatile that DRAM.
Analyst reviews were fairly mixed on Micron following the company's annual analyst day.
On the bright side, Wells Fargo analyst David Wong upgraded his rating on Micron from Underperform to Market Perform on August 17, but lowered his valuation range on the stock from $17-$20 down to $16-$19. While the upgrade seems like a positive move, it only stemmed from the fact that the stock is now trading within its valuation range and that it represents "a more realistic view of the improved business conditions in the memory industry."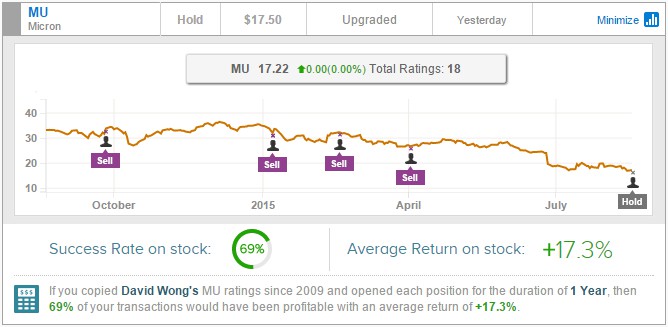 On average, David Wong has a 64% success rate recommending stocks and a +10.3% average return per recommendation when measured over a one-year horizon and no benchmark. The analyst has rated Micron 18 times total, earning a 69% success rate recommending the company and a +17.3% average return per recommendation.
On the other hand, Piper Jaffray analyst Ruben Roy reiterated an Overweight rating on Micron on August 17 with a price target of $25, noting that 2016 looks to be a "much better year for the company."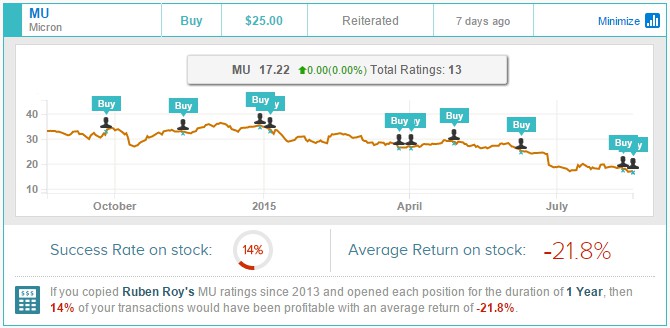 Overall, Ruben Roy has a 44% success rate recommending stocks and a +3.4% average return per recommendation when measured over a one-year horizon and no benchmark. He has rated Micron 13 times, earning a 14% success rate recommending the stock and a -21.8% average loss per recommendation.
Out of 26 analysts polled by TipRanks within the past three months, 17 analysts are bullish on Micron, 8 are neutral, and 1 is bearish. The average 12-month price target for Micron is $27.00, marking a 56.79% potential upside from where the stock last closed.
Carly Forster writes about stock market news. She can be reached at Carly@tipranks.com