On Aug 12, Red Hat Inc. RHT was upgraded to a Zacks Rank #1 (Strong Buy). The recent upgrade can be attributed to the company's rapid growth in its cloud offerings leading to an expansion in its clientele.
Red Hat's sustained focus on enhancing its portfolio through strategic acquisitions and partnerships is generating incremental revenues, strengthening technology leadership and resulting in a more favorable mix of business.
Notably, Red Hat's stock has gained 41.1% year to date, substantially outperforming the 21.4% rally of the industry to which it belongs to.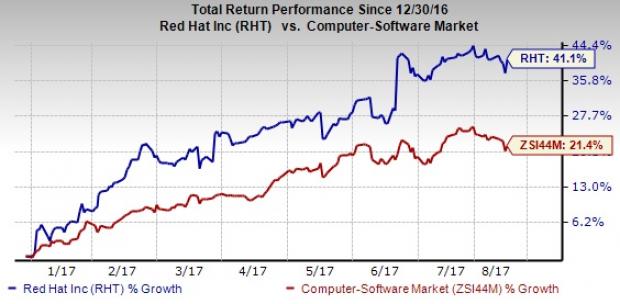 Growth Catalysts
The company is benefiting from strong deal wins, improving recurring revenues and cross-selling of cloud-based technology. The Amazon Web Services – OpenShift partnership extension reflects strength in the company's solutions and platform.
The availability of its Red Hat Enterprise Linux (RHEL) 7.4, which enhances workload security and performance for traditional and cloud-native applications while limiting IT complexities; and Red Hat OpenShift Container Platform 3.6, which provides greater application security, compliance and service consistency, is expected to expand its customer base further.
Further, its emerging technologies have gained a lot of traction in recent times. The company anticipates that revenues from the on-demand Certified Cloud and Service Providers (CCSPs) will reach $200 million annual run-rate in the current quarter.
Red Hat inked total 44 deals over $1 million in the last reported quarter. Of these deals, seven were worth more than $5 million and four more than $10 million and more than $20 million.
We note that Red Hat has a strong customer as well as partner base that include the likes of IBM, Intel INTC, Dell Technologies, Google cloud platform and Microsoft MSFT Azure.
Moreover, the company's strategy of acquiring companies that can be easily integrated into current its business has helped it to expand its foothold in higher-growth segments, such as Hybrid cloud and other emerging technologies. The company's latest acquisition of the assets and technology of Permabit Technology will help it in providing more efficient storage options to its enterprise customers.
Red Hat, Inc. Price and Consensus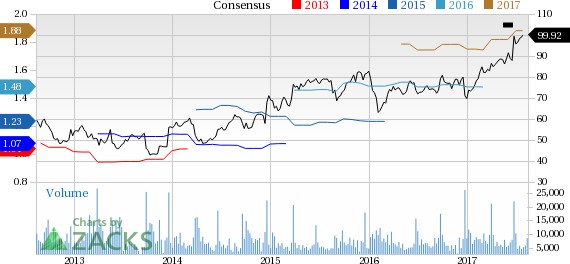 Positive Earnings Surprise History
Red Hat also delivered better-than-expected results in the last reported quarter. Earnings (including stock-based compensation) of 40 cents per share surpassed the Zacks Consensus Estimate of 6 cents. Notably, Red Hat has outperformed the Zacks Consensus Estimate in the trailing four quarters with an average positive surprise of 11.14%.
Moreover, revenues increased 19.2% year over year to $676.8 million, primarily driven by strong subscription revenues and cross-selling of cloud-enabled technology. The figure was better than the Zacks Consensus Estimate of $647 million and also better than the guided range of $643–$650 million.
The robust performance drove current quarter and full year estimates in the last 60 days. The Zacks Consensus Estimate for the second quarter and full year 2018 increased 4.4% and 3.3% to 47 cents and $1.88, respectively.
Another Key Pick
Applied Optoelectronics AAOI is another top-ranked stock in the sector. You can see the complete list of today's Zacks #1 Rank stocks here.
Long-term earnings growth rate for Applied Optoelectronics is projected to be 18.75%.
5 Trades Could Profit "Big-League" from Trump Policies
If the stocks above spark your interest, wait until you look into companies primed to make substantial gains from Washington's changing course.
Today Zacks reveals 5 tickers that could benefit from new trends like streamlined drug approvals, tariffs, lower taxes, higher interest rates, and spending surges in defense and infrastructure. See these buy recommendations now >>
Want the latest recommendations from Zacks Investment Research? Today, you can download 7 Best Stocks for the Next 30 Days.
Click to get this free report
Red Hat, Inc. (RHT): Free Stock Analysis Report
Microsoft Corporation (MSFT): Free Stock Analysis Report
Applied Optoelectronics, Inc. (AAOI): Free Stock Analysis Report
Intel Corporation (INTC): Free Stock Analysis Report
To read this article on Zacks.com click here.
Zacks Investment Research