The GBP/USD slid after the US election, as the USD gained across the board. This weak however, it has been consolidating just above 1.24. In the previous update, I noted that GBP/USD was at a key support area around 1.24. 
Today, we got UK's retail sales data for the month of October. 
Retail sales (month-over-month)
October: 1.9%
Forecast: 0.5%
September: 0.1% (revised up from 0.0%)
Here is an excerpt from the official release from the Office of National Statistics (ONS). 
The underlying pattern in the retail industry continues to show strong growth with the 3 month on 3 month movement in the quantity bought increasing by 1.9%; this is the 34th consecutive period of 3 month on 3 month growth.

Average store prices (including petrol stations) fell by 0.7% in October 2016 compared with October 2015; there were falls in average store price across all store types, except petrol stations. This is the smallest decrease since July 2014 and the latest Consumer Prices Index (CPI) shows that the largest upwards pressure on inflation is from transport costs.

The amount spent (value) in the retail industry increased by 6.6% compared with October 2015 and increased by 2.1% compared with September 2016.

The amount spent online increased by 26.8% compared with October 2015 and by 1.3% compared with September 2016.
Let's take a look at the GBP/USD and see if the market reacted to this better-than-expected data out of the UK.

GBP/USD 4H Chart 11/17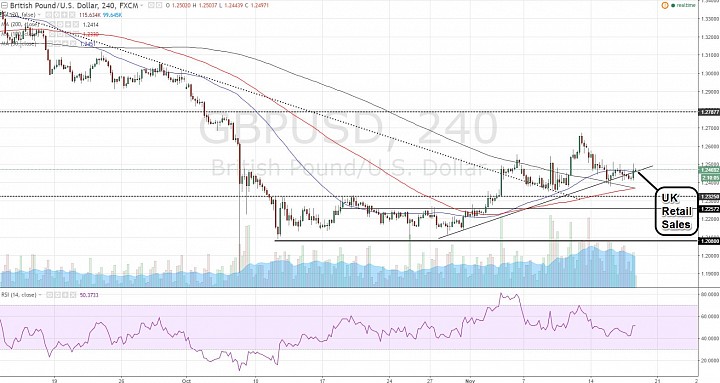 (click to enlarge)

1.25 is key resistance:
- The GBP/USD was simply bouncing around between 1.24 and 1.25 before the retail sales release. 
- It was actually rallying but found resistance at 1.25. The market did NOT push through. The retail sales data didn't seem to have an impact. 
- Still, the overall mode for GBP/USD is still bullish.
- A break above 1.25 could signal continuation towards the 1.2680 high to the 1.27 pivot. 
- A break below 1.24 will cast doubt on the bullish outlook.