3D Systems Corporation is going to report its earnings before the opening bell on Wednesday and here is a great chance for short-term investors to get a hefty return. First of all, DDD dropped more than 5% today ahead of earnings, the stock is definitely a volatile one. 2.5 years ago it was around 90 per share and then it dropped in a huge pique to reach $12. Second, the stock wasn't so volatile after the previous earnings release. The company released their Q1'16 earnings May 5 and the stock fell just 3% afterwards. It was an unusual activity, because the stock moved more than 10% after two previous earnings releases: Q3'15 and FY2015. 
Here is what we have in options right now: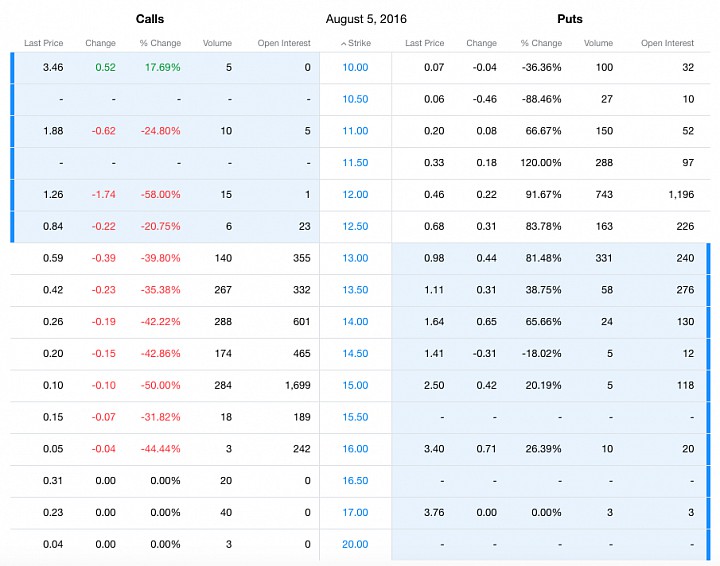 The options aren't that cheap, that's why buying straddle or strangle could be expensive. Therefore, my suggestion is to buy $12.5 call and put options expiring August 5 and sell call $13.5 and put $11.5. The overall outlay will be the following: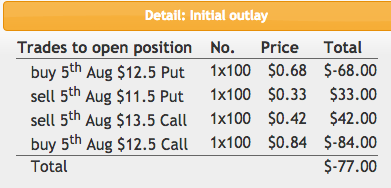 As you can see, we can compensate 50% from our expenses after buying put and call options. This option strategy is called reverse iron butterfly. We will get the following P&L profile: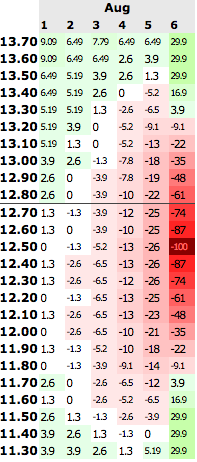 This chart shows you potential return from the initial outlay. As you can see, if the stock moves more than 4.7% up or 6% down, you'll start earning money. Maximum return of 30% you can get if the stock falls more than 9.4% or soars more than 6.3%. In order to remind you, DDD stock ahead of earnings lost more than 5% within one trading session today. DDD had a significant volatility jumps (more than 6.5% fluctuations) in 4 out of 5 most recent earnings calls. It could be a risky strategy in general, but it could be a good one for DDD. 
Let me know what you think about this strategy.