Puma Biotechnology, Inc. PBYI announced that it has completed enrollment of patients in a phase III study to evaluate its lead pipeline candidate PB272 (neratinib) in combination with Roche Holding AG's RHHBY Xeloda (capecitabine) for treatment of third-line HER2-positive metastatic breast cancer.

Presently, neratinib is under review in the U.S. as a single agent for extended adjuvant treatment of patients with early-stage HER2 over expressed/amplified breast cancer while in the EU, it is under review for an extended adjuvant treatment of HER2-positive early-stage breast cancer.

Puma's shares have significantly outperformed the Zacks classified Medical-Biomed/Genetics industry so far this year. The stock has soared 181.6% compared with the broader industry's advance of 6.4%.





The phase III study is designed to evaluate the use of neratinib in combination with Xeloda as against the combination of GlaxoSmithKline's GSK Tykerb with Xeloda in patients with third-line HER2-positive metastatic breast cancer.

The trial will be conducted on approximately 600 patients at sites in North America, Europe and Asia-Pacific. The co-primary endpoints of the trial are progression free survival (PFS) and overall survival (OS). The company expects an initial data from the study in the first half of 2018.

Notably, the NALA trial was designed with a special protocol assessment by the FDA. Subsequently, the European Medicines Agency (EMA) has also provided a follow-on scientific advice (SA), consistent with the FDA assessment of the design and endpoints of the study.

The company is also planning to develop this combination for treating patients with HER2-positive breast cancer that has metastasized to the brain and in patients with HER2 non-amplified tumors that have a HER2 mutation.

We remind investors that the breast cancer market is heavily crowded with drugs like AstraZeneca's Faslodex, Pfizer Inc.'s PFE Ibrance and Novartis's Femara among others.

With no approved product in the company's portfolio and neratinib being its lead pipeline candidate, we expect investors' focus to remain on the updates, pertaining to its development. A potential approval will enable the company to generate product revenues for the first time.
Puma Biotechnology Inc Price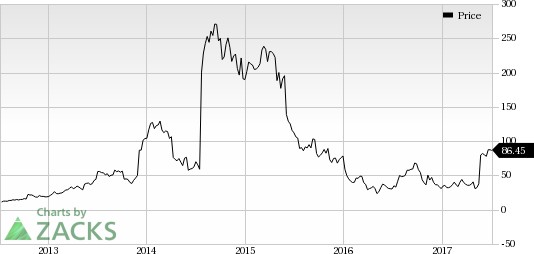 Zacks Rank
Puma currently carries a Zacks Rank #3 (Hold). You can see the complete list of today's Zacks #1 Rank (Strong Buy) stocks here.
Will You Make a Fortune on the Shift to Electric Cars?
Here's another stock idea to consider. Much like petroleum 150 years ago, lithium power may soon shake the world, creating millionaires and reshaping geo-politics. Soon electric vehicles (EVs) may be cheaper than gas guzzlers. Some are already reaching 265 miles on a single charge.
With battery prices plummeting and charging stations set to multiply, one company stands out as the #1 stock to buy according to Zacks research.
It's not the one you think.
Want the latest recommendations from Zacks Investment Research? Today, you can download 7 Best Stocks for the Next 30 Days.
Click to get this free report
Roche Holding AG (RHHBY): Free Stock Analysis Report
Pfizer, Inc. (PFE): Free Stock Analysis Report
GlaxoSmithKline PLC (GSK): Free Stock Analysis Report
Puma Biotechnology Inc (PBYI): Free Stock Analysis Report
To read this article on Zacks.com click here.