DGI'ers focus on income growth as a top priority.
Paying for dividend aristocrat stocks might never be at the price you will love.
There are other ways to generate an income stream. The choices are yours.
I am constantly talking about my focus on income as my ultimate goal, to have a more secure retirement. Everyone has their own opinion on how to achieve that, but for me, as you know, investing in dividend champion/aristocrat growth stocks at prices that are fair, but probably never the cheapest nor most expensive, is the way I go about building up my income.
As I illustrate right now with the "Frothy Market Beginners Portfolio," making very basic strategic moves has enabled me to surpass my goal for this portfolio of increasing my income by more than 10-15% for 2015.
Let's take a bit of an extended look at the portfolio.
The Frothy Market Beginners Portfolio consists of the following stocks as of today: Exxon Mobil (NYSE:XOM), Johnson & Johnson (NYSE:JNJ), Coca-Cola (NYSE:KO), Procter & Gamble (NYSE:PG), AT&T (NYSE:T), Con Edison (NYSE:ED), General Electric (NYSE:GE), HCP, Inc. (NYSE:HCP), Ford (NYSE:F), Old Republic International (NYSE:ORI), Starwood Property Trust (NYSE:STWD) and Realty Income (NYSE:O).
(click to enlarge)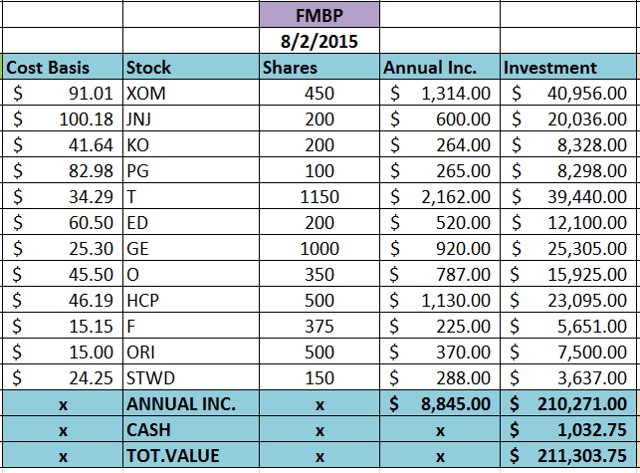 I have included the cost basis of each position to illustrate how much this portfolio has cost to bring in $8,845 annually in cold hard cash. I have not shown today's price, because I have no intention of dumping any of these stocks just because of market fluctuations, corrections or bear market blues.
More