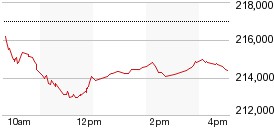 The 2009 acquisition of Burlington Northern Santa Fe by Berkshire Hathaway was framed by billionaire investor Warren Buffett as a bet on America. "It's an all-in wager on the economic future of the United States," Buffett said of the $44 billion acquisition that year.
And BNSF's Executive Chairman Matthew Rose told Yahoo Finance that he is still optimistic on the long-term growth of the company despite near-term headwinds.
"We still have a lot of headwinds, specifically as the commodity supercycle is really coming to a close. the strong dollar is a headwind. Certainly the coal business is a headwind. The rest of the economy on the consumer side...
More