It seemed like yesterday when I remember market participants were concerned about Chinese inflation - but then I check the data and I realize that was close to 2 years ago.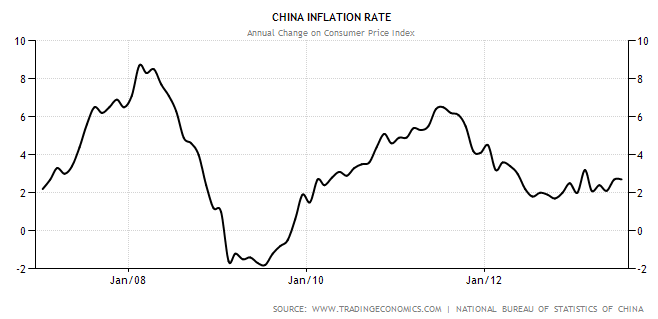 In any case, Chinese CPI data has continued to subdued, posting a 2.7% y/y increase in July. This is below the PBoC's target of 3.5%, and could give the central bank scope to lower interest rates if it thought the economy needed it to help stimulate growth. Inflation may actually fall further, which is something to look for as it could mean a cut to the reserve requirement ratio. However, this might go against the whole "let's teach the shadow banking system a lesson" thing the PBoC was trying to do just a month ago, but as discussed here, that policy seems to have been ditched.
Therefore, as we move forward through the year, let's keep an eye on price pressures. If they continue to ease, and the economy needs a boost, then we can expect lower rates in China - something that tends to bolster risk appetite and the currencies associated with that like the AUD and NZD.
- Nick