Drivers across the U.S. enjoying the lowest pump prices for this time of year since 2010 will probably see further declines as refineries benefiting from the shale boom produce record amounts of fuel.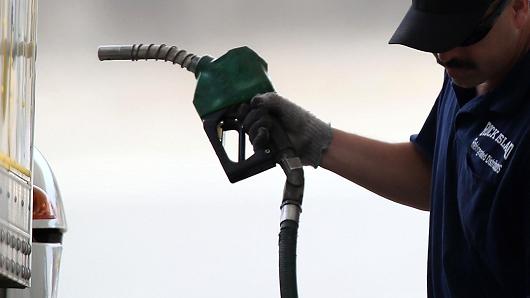 The average is $3.433 a gallon, down 6 percent since Memorial Day on May 26, AAA data show. That's the largest decline from the start of the summer driving season since 2008. U.S. refineries operated at the highest-ever seasonal rates every week since July 4.
Processors are using domestic crude that costs less than foreign imports as horizontal drilling and hydraulic fracturing in shale formations increased output to the most since 1986. Gasoline will drop another 10 to 20 cents a gallon by the end of October as retailers switch to cheaper winter-blend fuel, said Michael Green, a Washington-based spokesman for AAA, the largest U.S. motoring group.
"Refineries this summer were running at record-high levels due to the increase in domestic oil production," Green said Sept. 4 by phone. "That has helped cushion U.S. consumers from many concerns overseas and helped to alleviate any price spikes this summer."
Crude oil, which makes up about two-thirds the cost of gasoline at the pump, has fallen 14 percent since June 20. U.S. benchmark West Texas Intermediate was selling for $92.57 a barrel compared with $98.90 for European Brent, the benchmark for more than half of the world's oil, at 8:20 a.m London time.
Record Production
U.S. crude futures have closed below Brent every day since Aug. 16, 2010. Shale drilling has boosted U.S. production 63 percent in the past five years and restrictions on the export of most unprocessed crude increased supply to a record earlier this year.
Oil output will reach a 45-year high in 2015, the Energy Information Administration reported yesterday in its Short-Term Energy Outlook. Gasoline pump prices will average $3.41 a gallon next year, the agency estimated, down from $3.46 forecast in August.
Refineries processed 16.63 million barrels of crude a day the week of July 11, the most in Energy Information Administration records dating back to 1989. Plants used 16.43 million barrels a day in the week ended Aug. 29, the ninth-straight week with inputs at a seasonal record. Refiners and blenders produced a record 9.89 million barrels a day of gasoline in June.
Domestic Crude
Domestic crude accounted for 54 percent of refinery demand in June, up from 37 percent in June 2011. Imports into the Gulf Coast region, home to more than half the nation's refining capacity, fell 42 percent during that period to 3.02 million barrels a day, the least since 1990.
While refinery production is at an all-time high, gasoline consumption at the end of the summer is the lowest in 12 years. Four-week average demand was 9.07 million barrels a day in the period ended Aug. 29. U.S. gasoline supplies at the end of summer are 1 percent above the average of the past three years.
"Demand going into the Labor Day holiday was disappointing," Phil Flynn, a senior market analyst at Price Futures Group in Chicago, said Sept. 8 by phone. "This was going to be the year. And then it really kind of fell short."
Prices typically fall as retailers switch from summer-blend to winter-blend gasoline in September. Over the past three years, costs at the pump dropped by an average of 28 cents a gallon from Sept. 1 to Oct. 31.
Winter Blend
Gasoline is a complex blend of hydrocarbons and additives. The federal government requires a different mixture in the summer to reduce damage to ozone levels. Refiners and blenders can mix less-expensive components into gasoline sold after Sept. 15. September futures settled on Aug. 29 at a premium of 15.98 cents a gallon to October futures.
"Near term, retail prices could continue falling a few more cents because of the reduced cost of manufacturing," said Trilby Lundberg, president of the Lundberg Survey Inc., which publishes retail gasoline prices.
Any price declines could be erased if crude prices spike or if an unplanned refinery outage reduces production more than expected. About 1 million barrels a day of U.S. refining capacity will go offline in September and 2 million in October for planned maintenance, according to London-based consulting firm Energy Aspects Ltd.
A major stimulus package from the Chinese government or continued strengthening in the U.S. economy could also slow the slide in prices, Carl Larry, president of Oil Outlooks & Opinions LLC, said from Houston by phone Sept. 8.
Greater Demand
"We could add a few hundred thousand jobs by the end of the year," he said. "People drive on summer vacation, but more people drive when they go to work."
The center of the country has benefited more from the shale boom than the East and West coasts, EIA data show. New York City prices this year have averaged 31 cents a gallon more than Houston, the largest gap in data going back to mid-2000. Los Angeles prices are a record 70 centsmore than Houston.
Drivers have already been helped by the shale boom, even if they haven't seen it, said Green of AAA. Under ordinary circumstances, oil and gasoline prices would have shot up this summer because of global supply concerns tied to violence in Iraq and political tumult in the Ukraine.
"Gas prices continued to fall for much of the summer despite fighting in the Middle East and Ukraine," Green said. "Before the boom in petroleum production, it's likely those international events would have resulted in significantly higher prices."