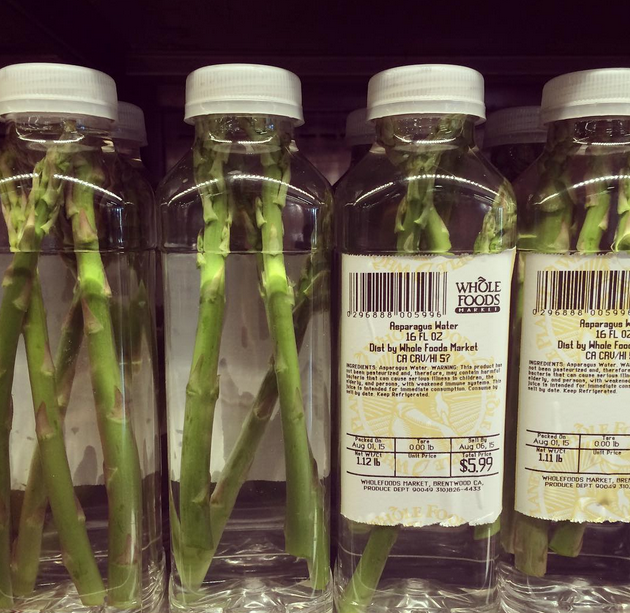 A photo of "asparagus water" from natural foods market Whole Foods (NASDAQ: WFM) went viral after a customer spotted the strange item and saw that it was priced at $5.99. The photo, which was posted to Instagram, shows bottles of water infused with three asparagus stalks.
The social media-sphere inevitably began sharing the photo, with garnered the attention of the Twitter community, calling out Whole Foods for selling such a ridiculous product for almost $6, USA Today reported.
A Whole Foods representative soon spoke out, explaining that the product was prepared incorrectly and was intended to be a bone broth-like mixture, however, made solely from vegetables.
"It was meant to be water with the essence of vegetables and/or mushrooms, which is typically made over a long period of time soaking in water," spokeswoman Liz Bukhart said, according to USA Today. "It was made incorrectly and has since been removed."
This is exactly the kind of exposure the grocery chain does not need at the moment. Recently, Whole Foods has been accused of overcharging products, leading to a formal, public apology from the company's co-CEOs.
"Straight up, we made some mistakes, we want to own that," the CEO's reiterated in their apology video last month, according to USA Today. 
However, the criticism revolving around the company's high prices are exactly why an oops-moment like this exists. One of the first complaints customers have when talking about Whole Foods is its high prices, leaving room for fancy water, even a fake one, to cost $6, and remain believable.
For more business and financial news, click here.
*This is editorial content and expresses the opinion of the author.