Sharp Rally:

If you look at the 4H USD/CHF chart, you see a sharp swing from about 0.87 to just above 0.8950 in a little more than a week. This started after a dovish ECB press conference that pressured the EUR, and indirectly dragged the CHF down because of the EUR to CHF peg by the Swiss National Bank.

(usdchf 4h chart)

Upswing Stalled:
The 4H chart shows this may be a technical retracement since the oscillators were overbought. But when we look at the daily chart, there is a reason to anticipate topping here around 0.8950.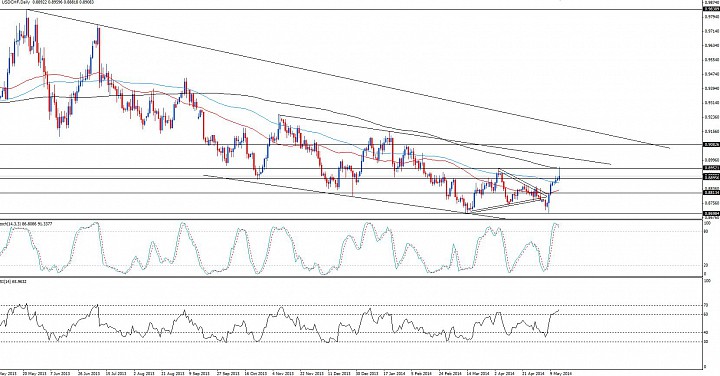 (usdchf daily chart)

Resistance:
The daily chart shows a couple more resistance factors.
1) 200-day SMA
2) A previous pivot at 0.8952. 
3) The daily stochastic is overbought, and is turning down
4) The prevailing trend is bearish, though it has neutralized since establishing a 2014-low near 0.87.

We can say the market in the daily chart is bearish-neutral. But that means there is bearish bias.

Bearish Outlook Scenario:
A conservative bearish outlook would be first down to the 0.8810-20 area, near the middle of the consolidation range between 0.87 and 0.8950. This scenario considers the possibility that the market is trying to find a price bottom, and thus limits the bearish outlook.

However, downside risk is down to 0.87. 

The bullish outlook should be shelved in the daily chart until a clear break above 0.8952 and the 200-day SMA, and preferably a break above a falling trendline from Nov. 2013.