First I want to highlight that you can watch my analyses and trade ideas also on TWITTER (@FlexibleTrader) and you can also watch my LIVE TRADES on YouTube (here). So be sure to check out MY TRADING STYLE in more details!
It is 3rd of April and we have lots of news today, which certainly the most important is the ECB Press Conference amongst. The Euro is currently at a very important level, so let us see, which way does it want to take …
The EUR/USD Currency Pair
from the longer-term perspective has been in the uptrend, say from 07/2012, when it reached the bottom at 1.2042. Now it seems a bit hesitating just around 61.8 Fibonacci level of prior downswing, when looking at the big picture. Watch the weekly chart below…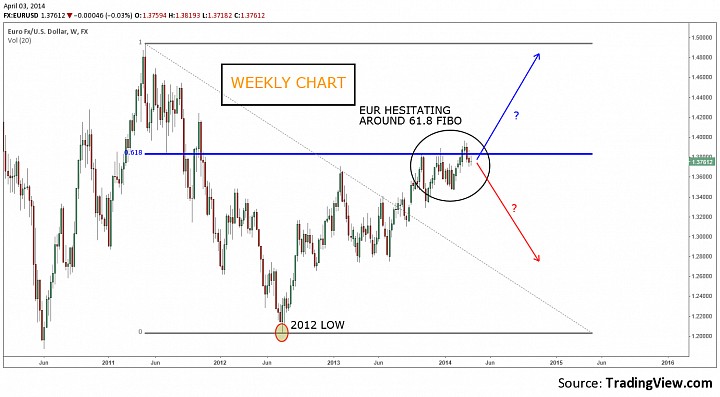 … so, is there a time for a decline? Is the Eur willing to go higher? Some clues may be found maybe in lower timeframes. Let us have a closer look for trading scenarios and important trading levels, which might tell us a potential future direction of this pair in the upcoming days.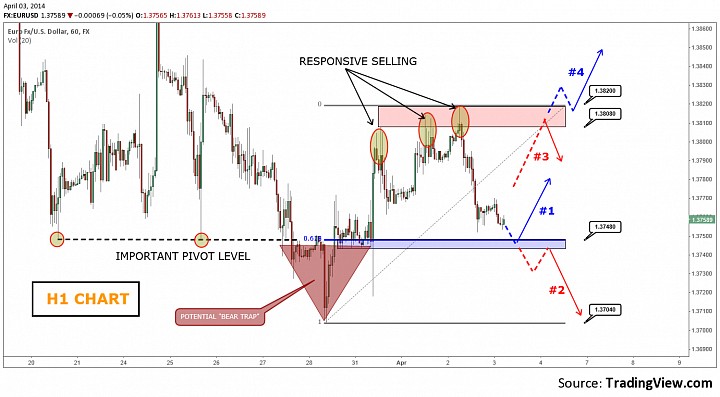 When looking to hourly chart, we can very easily identify an important level 1.3748, so it is highly probable that the price will interact with this level and may show a future intention. Based on my trading methodology, I can outline 4 basic trading scenarios.
LONG SCENARIOS
#1: A re-test of 1.3748 showing some kind of weakness for the bears is a very nice opportunity to go long not only for an intraday trade, but for a swing trade also.
#4: In case of an upmove with a strong close above 1.3820, there is a clear way for Euro to go even higher, this scenario might be a nice confirmation of a swing trade based on the scenario #1.
SHORT SCENARIOS
#2: A strong close below 1.3748 might be a sign of weakness and there might be a room for a further drop, next important support is 1.37040 then
#3: A re-test of 1.3808-1.3820 area defined by the prior swing high and three clusters of responsive selling (long-tailed) bars. A potential reversal here to the downside might be a sign of the weakness and would confirm the lower low there.
Personally I am highly interested in scenarios #1 and #3, because this scenarios give me sense and allow me to strictly define my risk.
What are your favourites? Write a comment below.
---------------------------------------------------------------------------------------------------------
As usual, my trading idea is based on an uncoventional trading methodology used in our SMB Capital Forex and Futures Training Program.
For a deeper understanding you can join us on http://www.smbtraining.com/overview/forex-training
or you can watch my LIVE TRADING VIDEOS ON YOUTUBE.
In case of any questions or comments, be sure to send me an email or contact me via other social media as stated below.
Petr Suchanek
Forex, Futures & Options Trader
Email: psuchanek@smbcap.com
Twitter: @FlexibleTrader
StockTwits: http://stocktwits.com/FlexibleTrader
YouTube Channel: http://bit.ly/17jWiog
Training program: http://smbu.us/smbwho