Amgen Inc. AMGN announced that its supplemental biologics license application (sBLA) to convert accelerated approval for leukemia drug Blincyto to regular approval has been accepted by the FDA.
So far this year, Amgen's shares are up 18.5%, outperforming the 7.1% increase registered by the Zacks classified Biomed/Genetics industry.

Blincyto gained accelerated FDA approval in Dec 2014 to treat patients with Philadelphia chromosome-negative (Ph-) relapsed or refractory B-cell precursor ALL. Moreover, the drug was also granted conditional marketing authorization in the EU for the same indication in 2015.
The regular approval is based on data from the confirmatory phase III TOWER study evaluating the efficacy of Blincyto versus standard of care (SOC) chemotherapy for the treatment of Ph- relapsed or refractory B-cell precursor ALL in adults.
In the study, it was seen that Blincyto, a single-agent T cell engager immunotherapy, led to a nearly twofold improvement in median overall survival (OS), demonstrating its superiority over chemotherapy. The median OS for Blincyto was 7.7 months compared with 4.4 months for SOC. The OS data from the TOWER study will be included in the label of Blincyto.
The sBLA also includes new data from a phase II ALCANTARAstudy to broaden the indication of Blincyto for the treatment of patients with Philadelphia chromosome-positive (Ph+) relapsed or refractory B-cell precursor ALL.
The ALCANTARA study evaluated the efficacy of Blincyto in adult patients with Ph+ relapsed or refractory B-cell precursor ALL. The data from the study showed comparable results to that of phase II study in Ph- relapsed or refractory B-cell precursor ALL. .
In the press release, the company mentioned that in May this year, the FDA approved another sBLA for Blincyto. With the recent sBLA, Amgen was looking for approval to add an administration option to infuse Blincyto over seven days with preservative. This expands the previously approved administration options of infusion over 24 and 48 hours preservative-free.
Blincyto has the potential to be developed for other hematologic malignancies as well. Phase II/III studies in patients with diffuse large B-cell lymphoma, which is currently enrolling patients.
In the first quarter of 2017, Blincyto sales surged almost 26% from the year-ago period to $44 million, reflecting higher demand.
The market is becoming competitive with many companies developing treatment for ALL. Pfizer Inc.'s PFE Besponsa is under review in the U.S. for Ph+ or Ph- relapsed or refractory B-cell precursor ALL with a decision expected in Aug 2017. It was approved by the European Commission for the same indication earlier this month. Meanwhile, Kite Pharma, Inc. KITE is also developing its lead candidate, axicabtagene ciloleucel for the treatment of ALL patients.
Amgen's pipeline updates have been impressive so far this year with positive data from various studies and approval for Parsabiv for secondary hyperparathyroidism; Amgevita, a generic version of AbbVie Inc.'s ABBV Humira, for all available indications in Europe; Vectibix in metastatic colorectal cancer and the latest label expansion of Blincyto.
We note that investors will remain focused on the company's pipeline data expected in the second half of 2017 including a decision on label expansion of Xgeva and Mimpara.
Amgen Inc. Price and Consensus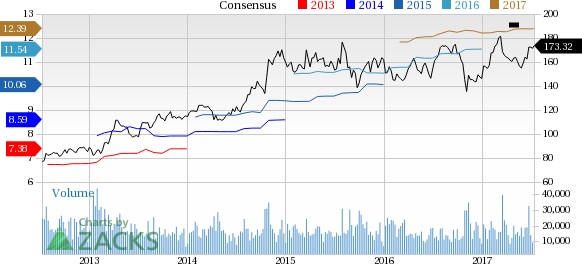 Zacks Rank
Amgen currently carries a Zacks Rank #3 (Hold). You can see the complete list of today's Zacks #1 Rank (Strong Buy) stocks here.
More Stock News: 8 Companies Verge on Apple-Like Run
Did you miss Apple's 9X stock explosion after they launched their iPhone in 2007? Now 2017 looks to be a pivotal year to get in on another emerging technology expected to rock the market. Demand could soar from almost nothing to $42 billion by 2025. Reports suggest it could save 10 million lives per decade which could in turn save $200 billion in U.S. healthcare costs.
A bonus Zacks Special Report names this breakthrough and the 8 best stocks to exploit it. Like Apple in 2007, these companies are already strong and coiling for potential mega-gains. Click to see them right now >>
Want the latest recommendations from Zacks Investment Research? Today, you can download 7 Best Stocks for the Next 30 Days.
Click to get this free report
Pfizer, Inc. (PFE): Free Stock Analysis Report
AbbVie Inc. (ABBV): Free Stock Analysis Report
Amgen Inc. (AMGN): Free Stock Analysis Report
Kite Pharma, Inc. (KITE): Free Stock Analysis Report
To read this article on Zacks.com click here.